The CAS BW-60 is a NTEP "legal for trade" economical scale with weighing capacity of 150 pounds and readability of 0.05 pounds. The BW-60 features large weighing platform size of 15.7" x 20.7". The CAS BW-60 comes with an easy to read 1" LCD display, LB/KG swichable, RS 232 port. Power provided by AC adapter and/or 6 "C" Batteries.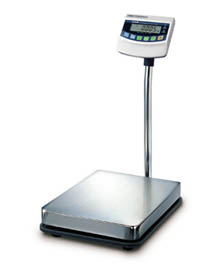 CAS BW-60 FEATURES
NTEP "Legal for Trade"
AC Power/Battery Power (6 C's)
Low Battery Indicator
Check Weigh Function (LOW / OK / HIGH)
Easy to Read 1" (5) Digit LCD Display
Platform Size: 15.7" x 20.7"
Capacity: 150 x 0.05 lbs
No rating yet... Be the first to rate this product!