Optima's All Stainless Steel NTEP Approved Pallet Scale model was designed with the food and chemical industry in mind. Not only does it provides high accuracy and repeatability under continuous heavy industrial usage, but it also prevents ingress of moisture, food and other kinds of foreign matter with its hermetic sealing process.
The industrial 4x4 is a rugged stainless steel floor scale with smooth top and 5000 pound capacity, ideal for Wash Down weighing applications. The OP916SS Series digital electronic floor scales weigh in either pounds (lbs) or kilograms (kg) weigh modes plus additional functions include Hold (for Animal Weighing) Check-Weighing and Totalization. NTEP approved. The line of low profile floor scales are fully electronic and were designed to give accurate and repeatable results with every weighing. Heavy Duty Stainless Steel Ball-Capture Feet are included and allow for setup on uneven surfaces.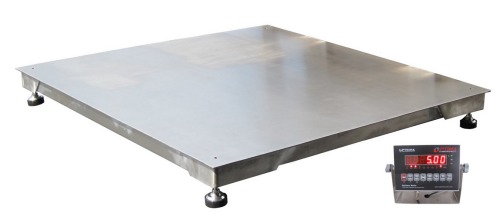 Free Ground Shipping (continental US)
The Industrial Floor Scale Indicator is completely Wash-Down Stainless Steel. Connected to the platform with a 20 foot Steel Braided Cable. The 1 inch display is easy to read. The Optima Stainless Steel 48x48 Floor Scale is your ideal, most economical Wash-Down weighing solution. The Display Indicator can be Wall-Mounted or set on the Desk-Top with the included bracket.
Scale Package must ship to a Zoned Commercial Business address with either a loading dock or forklift. Shipping charges apply outside of Continental United States.

STANDARD FEATURES
• Heavy Duty, Accurate, Easy Setup Stainless Steel Floor Scale
• Height Adjustable Ball and Cup Leveling Feet
• Top Access to Leveling Feet and Side Access to Junction Box
• 4 High Quality Stainless Steel Load Cells
• NEMA 4x Watertight Stainless Steel Junction Box
• 19' Heavy Duty Metal Shielded Quick Connecting Cable
• Indicator Features: Durable Stainless Steel Construction
• LB or KG
• Built-in RS-232 Communication Port
• 110V AC Adapter
• Tilt Adjustable Wall or Desk Mount Stand
MODEL: OP916SS-4x4-5K
CAPACITY: 5000 x 1 lbs
POWER: 110VAC
PLATFORM: 4' x 4' Stainless Steel Construction (smooth top)
No rating yet... Be the first to rate this product!