Ohaus ES50L Bench Scale 110 lb.
The Ohaus ES50L bench scale features easy, two-button operation and battery power in an economical bench scale design. For weighing in kg, lb, oz or lb:oz., the ES series provides a plug-n-play bench scale with stainless steel 20" x 16" platform and black painted frame. Cap: 110 lb.

ES50L
The Ohaus ES50L Low Profile 110 lb. Bench Scales bring utility and economy together. The low profile design makes it perfect for shipping, receiving, and general bench applications. Easy, two-button operation and a large display guarantee accurate and unmistakable results. The unique 3-way mounting bracket allows you to mount the indicator to the scale base, above the scale platform, or on any vertical surface. For simple weighing at a favorable cost, this scale is the one to choose. The weighing platform is a generous 20.5" x 15.7". We also have available the smaller version platform ES series available.

• Easy two-button operation
• Stability indicator
• Auto-zero tracking
• Battery saving auto-off timer, (after 5 minutes of inactivity)
• TRIAX indicator stand, (mounts indicator to base, above base, or to wall)
• Large platforms feature leveling feet.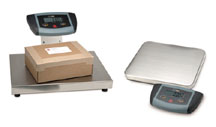 Runs on AC power or Battery Power (6 AA's) !
Model Number

ES50L

ES100L

ES200L

Capacity x Readability (lb)
110 lb x 0.05 lb
220 lb x 0.1 lb
440 lb x 0.2 lb
Capacity x Readability (kg)
50 kg x 0.02 kg
100 kg x 0.05 kg
200 kg x 0.1 kg
Capacity x Readability (lb/oz)
110 lb x 1 oz
220 lb x 2 oz
n/a
Capacity x Readability (oz)
1763 oz x 1 oz
3526 oz x 2 oz
7050 oz x 5 oz
Weighing Units
kg, lb, oz, lb:oz
kg, lb, oz
Base Size
20.5" x 15.7" x 3"
Indicator Stand
4" (10 cm)
Platform construction
Stainless steel with powder coated frame
Scale weight
33 lbs
Span Calibration
100%
50%
Stabilization time
3 seconds
Maximum overload
150%
Display
LCD 1"
Keyboard
Two function membrane switches
Power
9 VDC / AC adapter (included) or 6 AA batteries (not included)
Typical battery life
120 hours approximately, 30 hours continuous use
Operating Temperature
-10 C to 40 C