Befour PS-5700 is often considered the most compact, portable, and battery operated scale in the fitness market. The PS-5700 is extremely durable yet surprisingly lightweight. The compact 13" x 13" scale platform weighs in at only 8 pounds for great portability but has the ability to handle up to 500 pounds of capacity.
As the top-selling national brand in team sports, Befour weigh-in scales combine accuracy, reliability and durability in a truly portable design. A clear choice for athletic trainers, home health care professionals, weight-loss clinics, and sporting events such as wrestling, martial arts, football and more.
The PS-5700 LCD console provides battery life of an incredible 2+ years (over 80,000 weight readings) on a single set of alkaline batteries (included). With no moving parts, the PS-5700 is virtually maintenance-free and will stay calibrated under normal use. However, the innovative push-button calibration feature, if needed, makes calibration a "snap." Leave the tools at home! Other features include programmable tare, MotionLock Technology, and weight recall.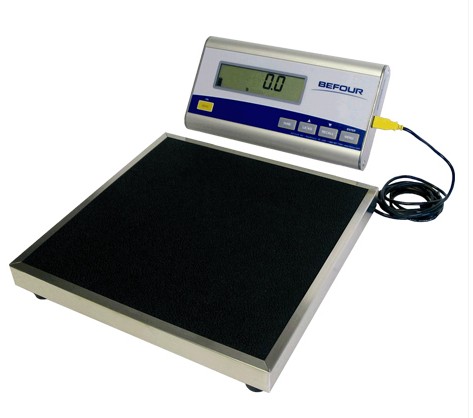 Features
Precise and reliable, weight measurements are accurate to within ± 0.1 lb.
1" LCD digits. Extended battery life of over 80,000 weighings.
MotionLock Technology will display an incredibly accurate weight for the most unsteady users.
Befour PS-5700 Scale Specifications
• Battery Powered: Operates on six (6) C-cell alkaline batteries (included)
• Accuracy: ± 0.1 lb / 0.1 kg
• Capacity: 500 lb. / 225 kg
• Platform Size: 13" x 13" x 2"
• System Weight: 12 lbs.
• Console Display: 1" LCD digits
• Aircraft-grade aluminum construction
• 3 year Manufacturer warranty
• Made in the USA
MODEL .................. CAPACITY ......................... PLATFORM
PS-5700 500 x 0.1 lb 13" x 13"
No rating yet... Be the first to rate this product!