In today's article I would like to take a look at various choices that customers have when shopping for scales for weighing freight. In a few minutes I will let you know what items I believe are the best freight scales and provide some reviews and general buying advice.
First of all we should discuss what the term "freight" means. In our example, we are basically saying loaded pallets which are around four foot square and weigh between a few hundred pounds and a few thousand pounds. Obviously, freight could mean larger amounts in some examples, and if that were the case then we would likely suggest a large truck scale. But in our case we're discussing inbound and outbound pallets in a warehouse. So, what are the best freight scales?
WAREHOUSE FLOOR SCALE
The first item that I want to mention is the warehouse floor scale. These are usually either 4′ x 4′ or 5′ x 5′ and have a maximum weight capacity of either 5000 or 10,000 pounds. This type of warehouse pallet scale is a great choice for many customers because the scales we recommend are built for industrial environments and should provide years of good service. In many cases, I recommend adding a ramp and it is usually a good idea to add some type of forklift protective bump guard as well.
If you choose to go this route when looking for the best freight scales, you also need to consider what other features might you need? For example, are you going to need a digital weight indicator with a Red LED display (great for indoors) or will a Grey with black digit LCD display (nice for outdoors) be needed? Are you going to be ok with a painted steel enclosed weight display or would a stainless steel enclosure be a better long term choice? Are you going to need anything else like a label printer? If you think these things through now it can sometimes eliminate mistakes or difficulties down the road.
By now you're probably wondering what industrial scales that we recommend for weighing freight? Truthfully, there are many choices that will probably work for your freight weighing needs. We suggest that you evaluate what type of features that you need along with your expected longevity of the scale. That should help you determine a ballpark price range. For example, if you're looking to buy an industrial floor scale that lasts you twenty years, then you probably will need to spend more than the $359 with free shipping floor scale that you saw being peddled on ebay. Sadly, many consumers don't realize this and find out the hard way. Some brands of floor scales that we recommend for weighing inbound and outbound freight include Avery Weigh-Tronix, Brecknell, CAS, Rice Lake, Weighsouth, Pennsylvania, and Cardinal.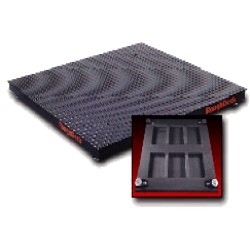 PALLET JACK SCALE
There are many customers who will tell you that these portable scales are nice to have and work great. The benefits of the pallet jack scale are the portability and increased efficiency. Employees aren't driving forklifts all over the place or pushing pallet jacks all over trying to find a floor scale in your warehouse. The pallet jack scale is fairly reliable but naturally it can be more prone to failures simply because it's being pushed and physically moved all around your facility. Battery power is very important with these types of inbound and outbound freight scales. Some customers are fans of the D Cell batteries that you can easily replace with standard flashlight style batteries. Other customers prefer the built in rechargeable lead acid battery. These are a few of the things that you need to consider.
When it comes to pallet jack scales, once again we lean towards the reputable brands. These scales are usually better and more reliable. As we mentioned earlier, be sure to think about what type of battery you prefer. Manufacturers seem to be moving towards the rechargeable battery as opposed to the D Cell batteries. With either style, the auto shut off feature will save your battery life. If you're in the market for the best portable freight scales then our choices are Atlas Kwik Weigh, CAS, and Intercomp.
USED FLOOR SCALES
Every now and then a customer may find a used floor scale and they wonder if that will be a good freight scale? The answer depends on many factors. Generally, a used floor scale that is a high quality brand like Rice Lake, GSE, Mettler Toledo will likely be a good choice. However, a low end brand that is used will likely not be such a good investment. It's hard to say for sure but if you come across a really good deal, one idea might be to purchase the used scale with the understanding that your local scale company is going to put the scale in and calibrate it to make sure it is working well.
NTEP LEGAL FOR TRADE
One question you may want to consider is NTEP legal for trade status. Do you want to buy a scale that is NTEP approved? If you are just check weighing inbound and outbound freight then you don't technically need a NTEP scale. However, when it comes to floor scales, it is usually a good idea to purchase a pallet scale that is NTEP approved with a certificate of conformance number. If you're looking to weigh freight using a pallet jack scale, more than likely you don't need a NTEP pallet jack scale. If you're uncertain, contact your local scale company or your local state weights and measures to make certain.
CONCLUSION
The best freight scales online can vary widely depending on who you ask. Fortunately for us, many customers trust us to provide them with solid buying advice. We've been doing that since 2005 and it's one of the fun parts of the job actually. It's a real honor when customers email us and ask our opinion or thoughts on a particular scale or a particular situation. If you're in the market for a freight scale, please browse our website and pick up one of our scales. If you need any assistance just send an email or fill out the contact form and we'll get back to you with buying assistance.