Every spring we usually are asked in some variation the following question(s) about a retail scale that keeps sales total information:
Do you have a price calculating scale that can keep a daily total and provide a report?
Does this scale keep a running total as you ring up someone and give you a total sales from the day?
Do you have a commercial scale that can keep track of my sales at the market throughout the day?
If you're looking for those types of features, probably your best option would be something like the CAS CL5000 which is a label printing scale that you might see in a meat market. The VFD Display is used to display Tare Weight, Unit Weight, Unit Price and Total Price. The high legibility LCD display is used to display PLU names, Scrolling Messages and Programming Menus.
The Double Click Call feature allows the operator to recall PLUs by double-clicking the speed key instead of having to use the shift key. The standard Bench Model comes equipped with 96 (48 x 2) quick look up keys while the Pole and Hanging Models have 144 (72 x 2). These keys may also be programmed to be special function keys.
Achieve print speeds up to 100 mm/sec with a print resolution of 202 dpi. The removable Label Cartridge's simple design allows operators a method of quickly and easily reloading labels. The CL-5000 supports various die cut or continuous label sizes up to 120 mm in length with the 50 preset label formats stored in its memory. With the included CL -Works software program, you can add up to 20 more custom label formats.
When it comes to reporting, X mode is used to read (i.e. print and display) sales data.
There are variety of reports that you can generate from X mode. Each of these reports is kept in two separate counters or "books" called X1 and X2. The X1 and X2 reports allow you to print reports at any time for either of the reporting periods. You can use X1 reports to see current daily totals and X2 reports to see current weekly totals. The time period combinations (daily, weekly, monthly, etc.) are determined by how you use the Z1 and Z2 (reset) reports. You can read more specific information regarding the reports function by viewing the CAS CL5000 operators manual.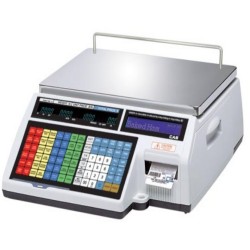 If the CL5000 is a little out of your price range, the Ohaus Aviator 7000 might be acceptable to you. The Aviator has been built to offer optimum quality versus price in order to guarantee the robustness, operating speed and accuracy you need, whatever your retail environment.
The LightTouch layer keyboard is setting standards thanks to its fast operation, easy cleaning and cost efficiency, while the large 4-line LCD including separate tare line makes daily tasks simple. For secure and easy transportation the Aviator 7000 includes practical design features such as Ergo grips and integrated adapter storage. In addition it offers POS protocol support, external printing enabling accumulation, along with reporting options.
Overall the Aviator 7000 offers you a complete package of features rarely seen on an entry level price-computing scale – ensuring that it stands out from the crowd.
Aviator 7000 can be connected to an external printer or an electronic cash register. Printing tickets and reports and working with accumulated transactions are also offered as standard. POS protocol support enables the user to connect an external printer or a POS. Thanks to this printer interface, accumulating, printing sales and log reports are standard features of the Aviator 7000.
In our experience, the current group of standard price computing scales does not offer a lot of choices and details when it comes to daily sales reports and analysis. If that type of daily sales totals data is really important to you, then you might want to seriously consider a more advanced scale such as the CL5000 which would be a good retail scale that keeps sales total data.