UPDATED MAY 2022
When you're looking online for best portable scales for weighing dogs, it's smart to come up with a rough idea of what features you need versus what features you want for the money.
The Best Dog Scales for sale…
For example, you might want tenth of a gram accuracy but you actually can get by quite nicely with a scale that provides tenth of a pound accuracy. You might want a digital pet scale that is 45″ x 25″ and only weighs five pounds. But you can easily get by with a scale that is 42″ x 22″ and weighs twenty-five pounds. Other features that customers often look for include hold function and low battery indicator. You can search for an accurate reading scale from Redmon, IL to Red Bluff, CA and still not find exactly what you're looking for…  That's why it's smart to work with scale experts like us!
In today's article we want to discuss what are the best portable scales for weighing dogs.
A Precision Digital Pet Scale can be Purchased Online if You Work With Knowledgeable Sellers
Digital vet scales come in all different sizes and capacities, so look around and determine what size of pet scale that you need. One major concern is trying to choose a scale that is easy for your dog to step on or be placed on and still feel comfortable and stand relatively still.
When you're deciding on what size scale to purchase, give this some thought. Dog weighing scales can vary all the way from very small weighing platforms for newborn litters of puppies all the way to very large platforms that you might see at your local veterinary practice.
So when you're thinking about this, remember who is actually going to use the scale?
Is it exclusively for your litters of puppies?
Will your large dogs use the scale?
Will both puppies and large dogs use the scale?
Finally, will just dogs be using the scale, or will others find their way on to the platform? (such as yourself or boxes for shipping?)
As veterinarians often tell us, dog owners and breeders should weigh their dog fairly often to notice any sudden change in weight that could be due to an illness. The frequency often depends on the dogs age and other factors.  Now in our article we're focusing on portable scales, but you certainly can buy a portable device and simply place it on your counter and never move it. Many of these dog scales can be either portable or stationary devices. Obviously the heavier and larger the digital scale platform is, the less portable the scale usually becomes. The total weight of many popular vet scales can be over 35 pounds.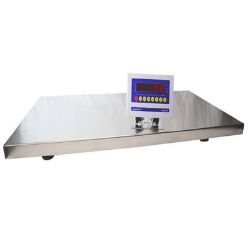 Choosing The Right Portable Dog Scale
If you're trying to weigh newborn puppies, then you might look at one of our smaller animal scales. These pet scales are fairly small and lightweight. If you're looking to weigh small breed dogs, you might be able to go with the same scale the newborns use. Larger dogs will need bigger scales. And what about power choices?  AAA Batteries or Rechargeable?  We'll discuss all this below.
As with just about everything these days, there are some choices out there online that are REALLY cheap. Our suggestion is to be careful with some of these scales. You're looking to obtain an accurate measurement of a dog's weight.
If you see a vet scale at less than $100 for example, that concerns us because of the durability. These scales have electronics inside and load cells, etc… We feel more confident in the choices that are a little more expensive. For example, the Weighsouth VS-2501 that we will mention a little later is built very well and actually has a lot of "industrial" style engineering. The cheap internet vet scales can't match the VS-2501 in durability.
If you're weighing REALLY large dogs, then we might suggest some of our animal scales that are designed for this like the PS2000 for example. Best of all, some of these dog scales can be "portable" if needed. However, we recommend that most scales in this category be used in one location.
Some important features that all our pet scales include are accuracy and consistency.
When you're weighing dogs, you want the scale to be accurate and you want the scale to display the correct weight each time you place the dog on the scale. This is where the really cheap scales that you find online on other websites sometimes struggle.
Dog Scales for Large Dogs?
Many of the scales we offer include a stainless steel weighing platform. Many of the scales also include a removable rubber mat that can be placed on top of the scale platform. If this is something important, make sure you source products that offer that feature. We also do have scales that are painted mild steel and even a few scales with plastic weighing platforms.
Most of our customers are veterinarian offices but we do have some dog owners or breeders.
Both types of customers care about accuracy. The dog owner probably cares a little more about the "look" of the product. In other words, the pet scale needs to be able to be put away or fit in to the ambiance of the room, since often the scale is located somewhere in their house. Frankly, some of our larger dog scales are not going to be very attractive in your home. Fortunately, in many cases the scales can be moved if needed. The scales that are better for small dogs can typically be stored just about anywhere in your home.
Top 4 Best Portable Scales For Weighing Dogs (with a few bonus choices & suggestions)
Depending on your particular needs, we think that you will find one of the scales below to fit your requirements. Veterinarians have trusted us to provide digital scales to their clinics for over a decade. If we had to pick one favorite in the list below, it would probably be the Weigh South VS-2501. The VS-2501 is a great scale. A few of the many reasons would be the maximum weight of 700 lb, easy to clean stainless steel platform and the easy to read display.
LARGE ANIMAL SCALE
Brecknell PS2000
PORTABLE LARGE BREED DOG SCALE
Brecknell PS1000
LVS XL
WEIGHSOUTH VS-2501
PORTABLE MEDIUM SIZE DOG SCALE
LVS-700
LVS-400
PORTABLE SCALE FOR WEIGHING PUPPIES (Small Pet Scale)
LCVS-330
A Note About Battery Power
One thing that we wanted to mention before we wrap this article up is battery power choices. Most digital scales that are manufactured these days are powered by 110 VAC power and plug into a regular wall outlet. Often if they use battery power it will be in the form of an internal rechargeable battery. There are a few dog scales that do take two AAA alkaline batteries. So, if you prefer rechargeable or AA batteries, be sure to check that out before making a purchase. These days, most of the time you're going to be ok with either choice since replacement batteries are readily available to most consumers.
Expert Knowledge Recommending Scales for Weighing Dogs
It doesn't matter if you're trying to weigh your golden retriever or some small dog, we have the knowledge and experience of providing vet scales to customers for decades. We know what equipment is high quality and which online choices for weighing small pets are not. A few pointers that we suggest… don't purchase just because someone offers free shipping or some other "limited time offer".  Choose a quality item.
We typically suggest a scale with backlit LCD screen and a tare function. A non slip rubber mat can be a good choice too (not some yoga mat but a durable rubber style mat).  Now almost every item on the internet is listed as "heavy duty" but if you truly need a robust and accurate scale, then it is an absolute necessity that you choose one of our higher end scale choices that we offer.
Pet lovers know that quality matters and it's true that often, you get what you pay for to some extent.  If you need certain features, please contact us and we will be glad to find certain products that meet your request.  For example, some customers look for things like easy storage, total weight of the scale, or bright red LED screen.
Then main features we consider important are an accurate scale that provides the pet's weight as close to "exact weights" as possible.
Final Thoughts To Consider for an Easy to Use Small Scale or a Large Scale with Hold Button
Admittedly some of the scales above are not really all that portable but could be moved around if needed, such as the Brecknell PS2000.  Hopefully we have provided you with a good idea of what are the best portable scales for weighing dogs.
Dog Scale for Home Use
As always, we strive to provide accurate and reliable weighing equipment. In many cases the dog scales that we recommend above have been part of our product offering for years, so they have a track record and we know how well they perform in various settings. If you have questions or would like a little buying advice please contact our customer service department via email for free purchasing advice.