The great thing about this floor scale system is you get great quality at an affordable price. The CAS HFS-405 floor scale is a great overall value that just about any business could use to verify the weight of pallets or generally weigh just about anything that you would ever need to weigh throughout a normal business day.
How many 4x4 floor scales on the market today come with a legitimate manufacturer backed 2 year warranty? The HFS-405 platform scale features that. This economical HFS405 platform scale is available in a 5000 lb capacity with one pound increments. The dimensions are 48" x 48" x 3.5".
And here is something you don't see everyday... the HFS platform features a thick 0.25" anti-skid diamond plate top. Most everyone else uses a thin top deck plate to save money.
This high quality floor scale comes factory calibrated to the very popular Transcell TI-500E digital weight indicator for simple and easy to use performance.
The product developers and engineers at CAS took a page from modern technology in developing the HFS-405 industrial floor scale. Today's modern planes, boats, cars and trucks are all being made lighter to conserve resources. Yet the vehicles of today are far superior in performance to the same types made just ten years ago. How is that?
It's simple engineering. Modern engineers have perfected the use of structural tubular design; steel beams created to weigh less and engineered with structural integrity superior to conventional steel beams. This tubular steel beam technology is used in the HFS-405 scale. Producing a floor scale of uncompromising strength.
HFS-405 (w/ TI-500E) Floor Scale Features
48" x 48" Low Profile Painted Steel Floor Scale
0.25" Thick Anti-skid Diamond Plate Top Deck
Rugged Structural Tubular Design
Easy to read LED display
Power: 110VAC
Side Access Junction Box
Quick Connect Cable
Cable Length - 15 ft.
NTEP #07-022 - Legal for Trade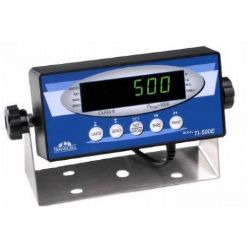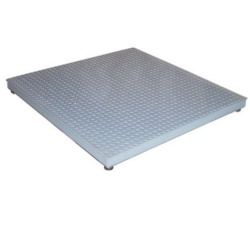 HFS-405 Floor Scale Brochure (pdf file)
| | | | |
| --- | --- | --- | --- |
| | | | |
| HFS-405-TI500E | 48" x 48" x 3.5" | 5000 x 1 lbs | 275 lbs |
| HFS-410 | | | |
| HFS-505 | | | |
| HFS-510 | | | |
Options Available
Ramp ....................................... 48"

FREE SHIPPING! Ship this HFS floor scale package anywhere in the Cont'l US to business addresses only (Zoned Commercial) with a loading dock or fork-lift. All other charges are the buyers responsibility. (Liftgate, Residential, Construction, Military)
No rating yet... Be the first to rate this product!