PENNSYLVANIA MODEL 6600 6x6 5000 lb. FLOOR SCALE w/ 7600+ Digital Readout -- Factory Calibrated -- Built Tough For Harsh Real World Applications – THOUSANDS OF SATISFIED CUSTOMERS have trusted the Pennsylvania brand for years.
As Pennsylvania Scale likes to put it "Imported from Lancaster" (Lancaster, PA that is).
ALL FLOOR SCALES ARE NOT ALIKE
10 Reasons why Pennsylvania Scale floor scales outperform the competition:
1.) Only use Sensortronics brand premium load cells or equal
2.) Meticulous corner adjustments and calibration prior to shipment
3.) CAD stressed designs-- scientifically engineered for point loading, strongest, least deflection, and long life performance
4.) Premium POWDER COAT finish on floor scale
5.) Extra heavy duty design -- standard HD 10K deck frame for all 48 x 48" models 1000, 2000, 5000, and 10,000 lbs capacity
6.) REAL Warranties: 5 year Limited Manufacturer Warranty
7.) Made in USA-- Lancaster, PA
8.) Special sizes and accessories available
9.) NTEP and Canada COC type approved models
10.) Friendly, flexible, and responsive customer service from factory in U.S.A.

Support Your Fellow Americans And Buy An American Made And American Calibrated Floor Scale System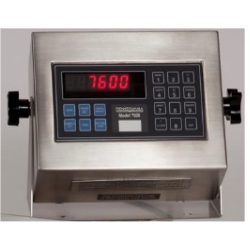 The system comes complete with the 7600+ digital weight indicator calibrated to the floor scale!

Proven Floor Scales: On-floor or Portable applications
Mild Painted Steel 72" x 72" Capacity 5000 lbs
All floor scales are not alike! Pennsylvania 6600 Series floor scales are designed for least life cost and sustained accuracy with features that outperform the competition:
Premium black powder coat finish
Premium Brand Name Load Cells & (4) adjustable leveling feet
100% end loading capable of handling off-center loads or tanks
Heavy duty construction and low profile designed for portable or permanent applications
Wide range of capacities, platform sizes, and accessories such as ramps
Made in USA - ship NAFTA Free Trade to Canada and Mexico
Suitable for Commercial Applications NTEP Legal For Trade (subject to local Weights & Measures regulations)
20' cable standard with Quick Disconnect
FIVE YEAR Limited Manufacturer Warranty
Compare construction, finish, Warranty, features, reputation, and long life design -- the Pennsylvania 6600 Series 6x6 5000 pound floor scale system outperforms the competition and provides least life cost and extended operation.
ITEM ................................ SIZE ................ CAPACITY
M6600-72x72-5K .............. 6' x 6' ................. 5000 lb
PRICE INCLUDES GROUND FREIGHT in Continental US
Requires loading dock or fork lift at delivery location (any additional charges such as liftgate, residential etc... are customers responsibility) Typical lead time approximately 2-3 weeks from date of order.
No rating yet... Be the first to rate this product!