UWE SCALES
HS Series Hanging Scales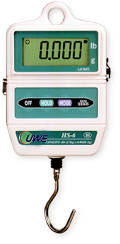 Features & Benefits
• Light weight, portable
• Kg/lb dual weight units
• Multi hold function
• Dual power: by 4 x UM-2 batteries or power adaptor
• Long battery operating time: 250 hours

• Options available: AC/DC power adaptor, stainless steel hanging scoop
NTEP (Models) Capacities Available: (HS-6)6 lb, (HS-15)15 lb, or (HS-30) 30 lb.

We have scales for everyone. Here's just some of the uses:
Animal scales, Industrial Balances, Bakery Scales, Bench scales, Cattle Scale, Check weighing scales, Coin Counters, Counting scales, Parts Count System, Crane scales, Doctor scales, Floor scales, Load Cell, Postal scales, Price computing label printing scales, Printers, Remote Displays, Scale indicators, Scale Repair, Truck scales, Used scales, Washdown units, Weight kits, and more !