Doran MVP Digital Bench Scales



You get to "build" your own NTEP Approved legal for trade, heavy duty bench scale system! You decide capacity and platform size! MVP system features large red light emitting diode (LED) DS 100 display w/ RS232 serial port. Available in various capacities. Also features selectable unit of measure and choice of weighing platform. 1000 lb capacities don't have lbs-oz capability.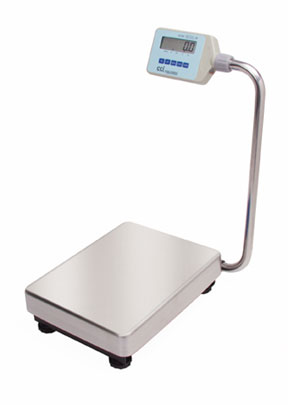 CCi 220
NTEP Approved
KG - LB
Adjustable tower & indicator
Rechargeable battery or AC
220 lb X 0.1 lb




Mettler Toledo PS60 UPS Compatible Shipping Scale
Whether at the receiving or shipping dock; stand-alone or computer-based; in manufacturing or retail; reading lb or kg -- you get accurate weighments at an economical price. UPS Software Compatible. USB and RS232 ports are now standard.
Platform Dimensions: 14.2" deep, 13.8" wide, 3.5" high

Capacity: 150 lbs.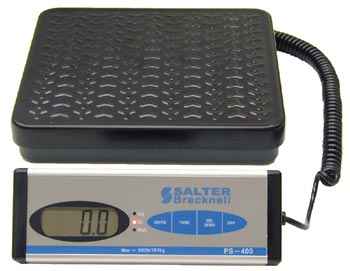 Salter PS Platform Scale
Platform size - 12.2" x 11.7" Display - 1.0"
Power supply - Six (6) AA batteries or AC adapter

Model Salter PS150 : General purpose scale with 150 lb capacity by 0.2 lbs (70kg by 0.1kg).
Model Salter PS400 : General purpose scale with 400 lb capacity by 0.5 lbs (181kg by 0.2kg).
NCI 7050 Bulk Sampling Scale
The 7050 uses Quartzell® Digital Transducer Technology, producing the highest speed and resolution in the industry for USPS bulk mail users.
The NCI 7050 high-resolution bulk sampling scale with dot matrix alphanumeric display and tactile keyboard presents the operator with fast, accurate, easy-to-read information all at one time. The ability to sample and count from bulk lots increases productivity through piece counting of filled mail trays. Weighing Surface: 12"x14" Capacity: 50 lbs


Kilotech Industrial Heavy Duty Topload Dial Scale


Rugged, heavy duty construction mechanical dial scale. Ideal for low to medium volume in shipping and receiving areas or in warehouse and production applications. Great low cost addition to shipping dept. Choice of 2 capacities: 100 lb or 200 lb. Platform sizes are 13x13 for the 100 lb. model or 15x15 for the 200 lb capacity model.