Salter PS-250 Industrial/Animal Weighing Floor Scale

Standard features include lbs and kg weighing modes, hold feature, stable weight indicator and auto power off to extend battery life.
Internal rechargeable batteries and a user instruction manual are included. A rubber slip-reducing mat is included with each unit. A bracket is included for desk or wall mounting of the indicator.

Dimensions available: 22" x 22" -- 36" x 22" or 42" x 22" -- * Please note the PS250 is no longer available is being replaced by the PS-500
Capacity: 500 lbs


Salter Vet Deck Floor Scale w/ S200E Indicator

The Vet-Deck accomplishes a multitude of weighing jobs on the farm. It fits easily into alleyways for weighing market hogs, nursery pigs, or other livestock. Its low profile makes it easy to weigh feed carts and bulk containers. The non-skid surface protects you and your livestock from accidental slips and falls. The adjustable footpads allow it to work effectively on uneven floors.

Deck dimensions: 20" x 50" x 1.75"

Capacity: 1000 lbs


Detecto VET330WH Digital Vet Scale with Wheels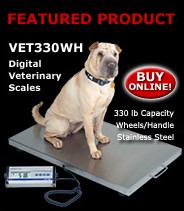 This economical, portable scale with a remote weight display is the ideal scale for medium to large size animals. The VET330WH features rechargeable battery power and comes with an AC adapter. The scale's light weight combined with wheels and carrying handle make it ultra portable to allow the weighing to come to the patient.

Detecto PS5A-2KD Small Animal Vet Scales



Perfect for weighing small animals, these dual-capacity units let you switch from ounces to grams at the touch of a button. These little scales are big on accuracy, ease of use and affordability. Lightweight at just five pounds (3 kg), they're powered by either four AA batteries (not included) or an optional AC adapter. The roomy, stainless steel tray is removable and easy to clean. Push button tare, easy-to-read .5"/13mm LCD and stainless steel platter make them ideal on a bench or counter top for cats, hamsters, rabbits, lizards, or any other small animals.