VC-505 Digital Readout
The core of the VC-505 is a PC/104 industrial hardened MC module with an on board PC/104 self-stacking 8-bit bus connector. The MC module introduces the first "Intelligent Digital Filter" using Fuzzy Logic. The VC-505 supports five single-ended transducer input channels (3 scale inputs). In addition, the VC-505 provides some of the same I/O capabilities as a PLC (AC, DC, high-speed counter, positioning, and PID). The VC-505 comes with a 17 key keypad and a high resolution graphics display. The standard 8"x10"x4" enclosure can fit up to 16 solid state relays. This compact package gives you a true state-of-the-art system for transducer measurements, and machine and process control applications. The VC-505 also comes with multiple display modes that allow totalizing and single/multiple scale display. The VC-505 can be networked to a PC using our ActiveX control. In addition, some factory network interface cards (such as Allen-Bradley Data Highway Plus) are available as options.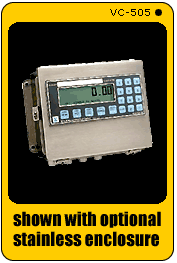 Specifications
Display
High-resolution LCD(64x240) Alphanumeric 1.25"x5" display with 0.8" digits and 90 characters of text.
Keyboard
17 button membrane keypad with tactile keys.
Multiple Scale Input
Three separate scale input channels expandable to 6
Internal Resolution
1,000,000 counts
Display Resolution
Selectable (1 part in 10,000 NTEP approved)
Transducer Types
Weight, Force, Pressure, Position (LVDT), Temperature, Level, Velocity and Torque
Excitation Voltage
+10 VDC, Powers up to (12) 350ohm load cells
Input Sensitivity
1uV/gradation typical
Auto Zero Tracking
Selectable to 3dd by 0.5dd
Motion Window
Selectable to 3dd by 0.25dd
Calibration Method
Software - Menu driven prompting
Units of Measure
Selectable lb/kg
RFI/EMI Protection
All signal and excitation lines filtered to -65db minimum @500MHz
Filtering
Selectable Low Pass Filter and adjustable Averaging queues
Display Modes
Selectable, Single/Multiple Scale and Totalizing
Display Increments
Selectable - x1, x2, x5, x10, x20, x50, …, x500
Decimal Point Location
Selectable 0 - 7
COM Port 1
Full duplex, RS-232 or RS-485
COM Port 2
Simplex (output only), RS232, RS-485 and 20mA
PC/104 Bus
IEEE P996.1 Compliant, 8 bit PC/104 bus, I/O Mapped, Selectable Address 300 - 308
I/O
Programmable 8 Inputs & 8 Outputs Standard expandable to 112
Set Point Types
Selectable (to specific scale) Static, Sequential and Check-weigh
Power
90 to 280 VAC auto sensing 50-60Hz
Operating Temperature
-10 degrees C to +40 degrees C
Dimensions
10.0 in.(254mm) W x 8.0 in.(203mm) H x 4.5 in.(114mm) D
Weight
Weight: 8.25lb (3.75kg)
Enclosure
NEMA 12 Mild Steel (optional NEMA 4X Fiberglass or Stainless Steel)
Warranty
One year limited warranty
Approvals
NTEP certified 10,000 Divisions, Class III/IIIL (#98-089)
Canadian Weights & Measures (Pending)



Please email if you have any questions or would like to place an order today!


We have scales for everyone. Here's just some of the uses:
Animal scales, Industrial Balances, Bakery Scales, Bench scales, Cattle Scale, Check weighing scales, Coin Counters, Counting scales, Parts Count System, Crane scales, Doctor scales, Floor scales, Load Cell, Postal scales, Price computing label printing scales, Printers, Remote Displays, Scale indicators, Scale Repair, Truck scales, Used scales, Washdown units, Weight kits, and more !