Weight plays a vital role in transportation. There are many reasons why commercial trucks need to be weighed, either by above ground 70 foot long truck scales or portable weighing systems. One of the most important reasons is safety. If a truck is overloaded, then it is a danger to the operator and to other drivers on the road it shares with others.
Another reason is profitability. Unknown or inaccurate weights can cost a company thousands of dollars in overweight fines, excessive vehicle maintenance costs, and inventory disruptions. When considering either a portable or in-ground tractor trailer scales for over the road transportation, there are many factors that must be carefully examined such as location, vehicle throughput, space constraints, data collection, and budget.
Intercomp manufactures portable wheel weighing systems to weigh trucks, and other commercial vehicles, used in a variety of industries including transportation, logistics, construction, energy, aggregates and custom vehicle modification. The wide range of portable tractor trailer scales and systems helps customers maintain compliance with legal weight restrictions, optimize payload to improve efficiency and safety, and save operating costs by tracking inbound and outbound shipments.
Intercomp PT300 Wheel Scale Systems with carry case save money by buying a wheel load scale system as a complete package. System includes 6 platform scales. Charger also included in the system. On top of all that, the carrying case is also a part of the Intercomp Wheel Load Scale System # 181060-RFX. Lead time is usually 3-4 weeks.
PRICE INCLUDES FREIGHT (cont'l US)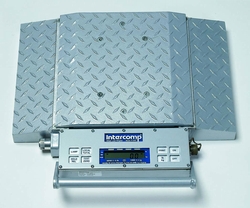 Additional PT-300 Info (pdf file)
Includes: Six scales (12" x 12" platform) with wireless output, charger and carrying case. 12" wide platform accommodates single tire (outside tire in dual wheel configuration).Total Capacity: 120,000 x 20 lbs.
When using wheel load scales like the PT300, Intercomp recommends that an axle group (axles within 10 feet), be on the same plane. This means all axles in a group, including dual, triple and spread axles, should be at the same level as the axle on the pad, either supported by another scale pad or a solid object.

System Benefits:
Portable, Cost-Effective Method to Weigh Vehicles
Axle Weights Easily Obtained
Accurate Weights on Multiple Surfaces
How To:
Stop Vehicle and place scale pads just ahead of wheels to weigh
Drive up onto pads and stop before driving over pads
Read weights on scale display or RFX® Wireless Weighing indicator
No rating yet... Be the first to rate this product!