Intercomp CS750 Digital Hanging Scale 500 lb
$

851.00
Reg. Price $945.00
You Save $94.00
in stock
Intercomp CS-750 digital hanging scale item# 100654 is the premier choice with it's large, easy-to-read, display, ultra-high resolution, 20-bit A/D converter provides the highest accuracy available, and an Infared Remote are standard for operating at a distance. Capacity is 500 lb. Normal leadtime before this product ships out is 1 week.

100654
Intercomp CS-750 crane scale with 500 lb capacity is a high accuracy compact digital hanging scale for low capacity industrial applications. Other capacities for the CS750 run from 25 pounds up to 1000 pounds. The scale features a high visiblity 1 inch Liquid Crystal Display (LCD) with backlight and will operate for up to one year on (6) D batteries. Crosby eyehook and bottom swivel hook are standard. Full featured infrared remote control is included with item.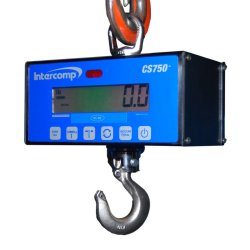 BUTTONS:
Zero, On, Off, Backlight
DISPLAY: 1 in (25 mm) 5-digit LCD
INDICATORS: lb / kg
POWER:
(Batteries are not included) six D size disposable
alkaline dry cell Battery life is one year of normal use.
DIMENSIONS:
Control box: 8.5 in L x 5 in W x 4.25 in H
(216 mm L x 127 mm W x 108 mm H)
Lifting eye to hook: 9.5 in (241 mm)
ENCLOSURE: Extruded aluminum case
APPROVALS: NTEP Class III 3000d CC#97-135A4 (select models)
SHIP WEIGHT: 8.5 lb (4 kg)
AUTO SHUT-OFF: Low battery, or after five minutes without use
ACCURACY: ±0.1% of reading
TEMPERATURE: Operating -4°F to 140°F
WARRANTY: One-year limited mfg warranty
100654

CS750-500* NTEP

500 x 0.2 lb

9 lb

Normal leadtime before this product ships out is 1 week.
Other CS750 models available include:

CS750-100

100 x 0.05 lb

CS750-300* NTEP

300 x 0.1 lb

CS750-1000* NTEP

1,000 x 0.5 lb
Intercomp CS750 Digital Han... reviews

Global Rating: 4.00 from 2 reviews
See all reviews
Add your review of this product
Intercomp CS750
Feb 10, 2012
Aaron Rocchinno
Berkeley CA US
Exactley what I was expecting and works GREAT! more...

Happy with scale
Nov 25, 2009
Ken
Sandy UT US
Overall pleased. As stated, it took a full 12 days for me to receive this scale after I ordered, so be prepared for the wait. Otherwise, the scale works as... more...