Our 4x4 industrial floor scales are rugged mild steel floor scales, ideal for general purpose weighing applications. With a platform height of only three inches, these floor scales allow easy access to and maneuvering of all types of load handling. The digital electronic floor scales weigh in either pounds (lbs) or kilograms (kg) weigh modes plus additional functions include Hold (for Animal Weighing) and Check Weighing.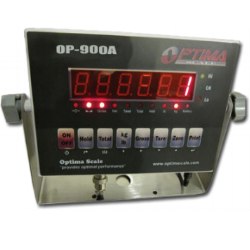 The indicator features a completely Stainless Steel Enclosure (NOT PAINTED STEEL, NOT PLASTIC). Connected to the platform with a 20 ft Steel Braided Cable allows the Display to be positioned away from the base without the worry of those pesky rodents chewing the cable.
The Floor Scales are AC/DC, and the built in rechargeable battery last (Aprox. 100 hrs). The bright red 1" high LED makes the display visible from across the warehouse. The Scale Weighing System is your ideal, economical weighing solution for applications such as weighing pallets in a warehouse. The Digital Indicator can be Wall-Mounted or set on the Desk-Top with the included bracket.
Please note our standard version is 4x4 5K with Red LED but we can also get other versions put together such as; different displays like LCD, different sizes such as 5x5, and different capacities such as 10,000 lbs. Contact us for details.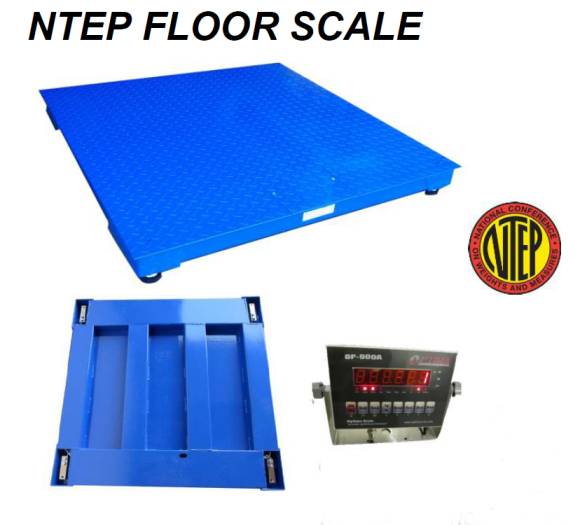 Best of all this high quality platform scale includes the GoDex DT2X Label Printer and cable. This makes this unit an outstanding choice if you're looking to place a label on each pallet that you've weighed.
As for the label itself; along with the Gross, Tare, & Net we can also program up to 4 lines of information (it will be at the very top of the label). Some customers like to either put "Thank you for your Business" or up to 4 lines of their business information such as Business name, address, phone number, website or email. If you want customization, then you must let us know this before the equipment ships out!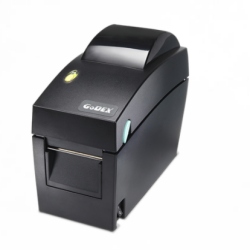 The printer is setup to print a label that shows:
Gross Weight
Tare Weight
Net Weight
4x4 FLOOR SCALE WITH LABEL PRINTER SPECS
Platform: 4'x4'
Capacity: 5000 x 1 lb
Power: 110VAC / Rechargeable Battery
Display: Red LED
Scale system ships on a pallet via LTL freight. This needs to ship to a business location with forklift or loading dock. Any other fees like residential or liftgate will be passed on to the customer.