Health-O-Meter 499KL Waist Level Scale
The Health O Meter 499KL waist high digital scale features 500 lb / 227 kg capacity with 0.2 lb / 0.1 kg increments. A large, low profile platform with non-skid mat for stability and easy access. Easy-read, 1" high LCD readout. BMI(easy scroll method) Hold/Release, Zero, KG/LB, Clear, Enter functions Auto-Zero, 2 minute auto-off (AC mode disabled), low battery indicator and is powered by 6 AA-cell batteries (not incl.) or optional 120V AC adapter

499KL
The Professional Digital Health O Meter 499KL Scale is a new value in Professional Digital Scales. Featuring the design profile of Health O Meter's classic beam scale, this new all-digital scale advances the Health o meter tradition of quality, reliability, and ease-of-use. Health o meter Professional has a full line of Digital Scales that meet any patient need.
Features include:
• High 500 lb/227 kg capacity.
• Easy-read 1" high LCD display.
• Large, low-profile platform provides safer access and stability.
• EMR Connectivity via USB.
• User friendly interface with full complement of digital functions including BMI.

500 lb / 227 kg capacity, 0.2 lb / 0.1 kg increments.
Large, low platform with non-skid mat for stability and easy access.
Easy-read, 1" high LCD readout.
User Friendly Interface Features:
BMI (easy scroll method)
Hold/Release, Zero, KG/LB, Clear, Enter functions
Auto-Zero, 2 minute auto-off (AC mode disabled), low battery indicator
Strong aluminium pillar.
Updatable Firmware
EMR Connectivity via USB
Optional AC adapter available (ADPT31)
499KL - Waist level
2 Year Limited Mfg. Warranty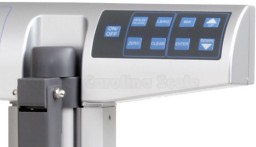 No rating yet... Be the first to rate this product!