Health-O-Meter 500KL Physician Digital Scale
The Health O Meter 500KL eye level digital scale features 500 lb or 227 kg capacity with 0.2 lb or 0.1 kg increments. A large, low profile platform with non-skid mat for stability and easy access. Easy-read, 1" high LCD readout. BMI, Hold/Release, Zero, low battery indicator. The scale includes a height rod 24"-84" x 1/8"and is powered by 6 AA-cell batteries or optional 120V AC adapter (ADPT31)

500KL
The Professional Digital HealthOMeter 500KL Scale is a new value in Professional Digital Scales. Featuring the design profile of our classic beam scale, this new all-digital scale advances the Health o meter tradition of quality, reliability, and ease-of-use. Health o meter Professional has a full line of Digital Scales that meet any patient need.
Features include:
• High 500 lb/227 kg capacity.
• Easy-read 1" high LCD display.
• Large, low-profile platform provides safer access and stability.
• EMR Connectivity via USB.
• User friendly interface with full complement of digital functions including BMI.

Health-O-Meter 500KL Scale Brochure (pdf file)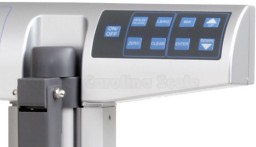 Health O Meter 500KL DIGITAL DOCTORS SCALE SPECS
500 lb / 227 kg capacity, 0.2 lb / 0.1 kg increments.
Large, low platform with non-skid mat for stability and easy access.
Easy-read, 1" high LCD readout.
User Friendly Interface Features:
BMI (easy scroll method)
Hold/Release, Zero, KG/LB, Clear, Enter functions
Auto-Zero, 2 minute auto-off (AC mode disabled), low battery indicator
Height rod (24"-84" x 1/8" / 60cm – 213cm x 1mm)
Strong aluminium pillar.
Updatable Firmware
EMR Connectivity via USB
Operates on 6 AA-cell batteries (not incl.) or optional 120V AC adapter
MODEL ........... CAPACITY X READABILITY ................. ITEM WT ................ PLATFORM DIM
500KL 500 x 0.2 lb / 227 x 0.1 kg 21 lb 14" x 16.7"
Health-O-Meter 500KL Physic... reviews

Global Rating: 4.50 from 2 reviews
See all reviews
Add your review of this product
super fast shipping
Feb 9, 2010
Anonymous
Linton IN US
super fast shipping. good product. would recommend more...

Satisfied Customer
Dec 30, 2009
Haley
Spartanburg SC US
I really like the height rod feature on the 500KL because it saves me time. I can record the patients height and weight at one time. more...