The bright LED digits are easy to read even in low light areas and the extended life batteries now offer 1000+ readings in pounds or kilograms on a single charge. One of the nation's top-selling athletics scale within the past ten years. The "Take-A-Weigh" well known in youth sports that demand highly accurate weight measurements while on the road. Likewise suitable for use at home, sports training, and even losing weight.
The very best simply keeps getting better. New "Super Tuff" ST platform features one-piece cast aluminum design which is lighter weight, tougher and even more resilient with safe rounded edges and a recessed, non-skid rubberized mat. New "Plug & Weigh" cable system links the platform to the console using a regular USB cable. In the event the cable ever be ruined, replacement normally requires merely a few minutes and can easily be performed by the scale end user.
The PS-6600 ST scale is operates on either its internal re-chargeable battery or via a wall outlet with its AC adaptor. The impressive rechargeable NiMH (nickel metal hydride) batteries are environmentally-friendly and supply a long life with additional weighings per charge. This scale may be taken anyplace and accurately weigh everything from 0 to 500 pounds. to within ± 0.1 lb. Practical, repeatable, precise, and durable, the Befour PS-6600 ST is almost everything a transportable scale ought to be.
Calibration is hardly ever a concern; the PS-6600 ST is renowned for retaining calibration even throughout the heaviest use. Suitable for team sports, family home health care, athletic training, and weight management, the PS-6600 ST is simple to move, store, and operate. Undoubtedly this really is one tough easily transportable weighing machine.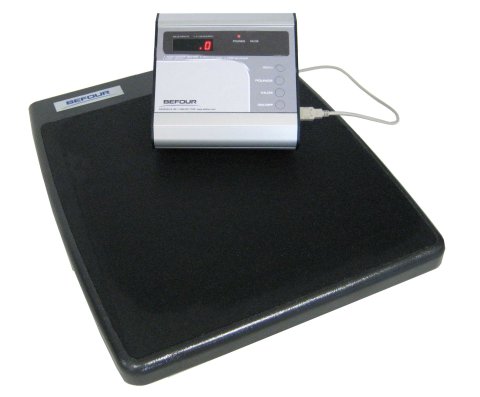 • Top-selling wrestling weigh-in scale in the nation
• Powered by rechargeable batteries or AC
• Large 16" x 18" platform
Features
• Pin point accuracy of ± 0.1 lbs
• Powered by extended life rechargeable battery or 120V AC adapter
• Quick insert/detach connections
• Push-button calibration with any sure weight over 100 lbs. No tools needed
• Reinforced USB-grade molded cables
• Quadruple strain gauge technology
• Durable, lightweight air-craft grade aluminum construction
• Industry-best 3 year limited manufacturer warranty
PS-6600 ST Specifications

Capacity

Accuracy

Platform Size

System Weight

Readout Display

Power Source

Rechargeable battery and/or 120V AC

Turn-Off Condition

BMI Calculation

Construction

Portability

Warranty

Limited 3 year manufacturer
Optional carry cases available

HC-1824 Hard Shell Case

• Heavy duty hard-shell carry case for added protection
• Custon-cut Interior foam securely holds the PS-6600 ST scale in place
• Lock and keys included


SC-1816

• Padded nylon soft case
• Safely stores PS-6600 ST scale platform, readout console, and cables
• Great for storage, protection, and transport
No rating yet... Be the first to rate this product!