Tree MRC-6500 Race Car Scale System 6500 LB
$

1,495.00
Reg. Price $1,550.00
You Save $55.00
InStock
MRC-6500 race car scale set includes four 14" x 16" x 2.5" weighing platforms with scale controller. Displays individual tire weight, front & rear axle weights, left & right weights & more. Total System Capacity: 6500 x 1 lb. Ground Shipping included for cont'l US

MRC-6500
The Tree MRC-6500 race car scale set is an entry level set of digital scales that allows you to scale your car or vehicle at a relatively affordable price. Each of the four scale pads has a capacity of approximately 1600 lb and is connected via Bluetooth to the digital weight indicator. The weight indicator is powered by standard 120 VAC or rechargeable battery. Best of all, ground shipping is included for cont'l US customers.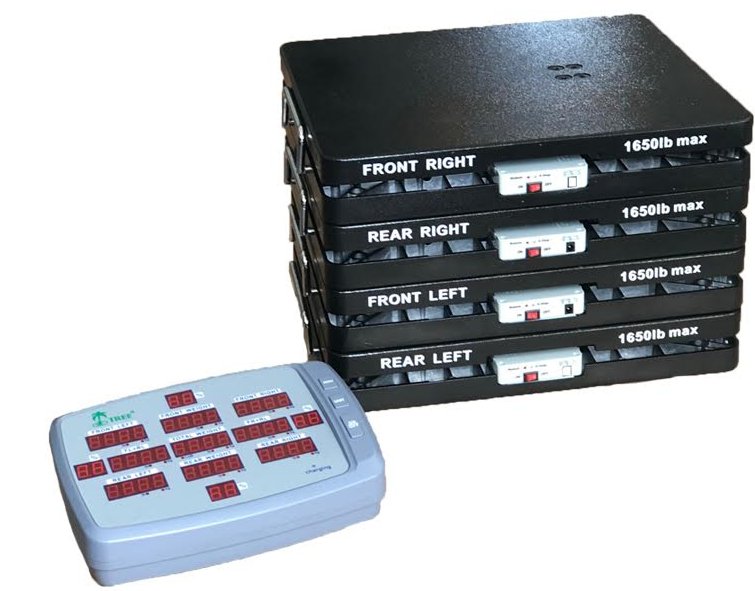 The weight of the four scale pads and the digital weighing indicator is around 90 lb. Stock of this system is limited, so we suggest if this racing scales product interests you, please go ahead and place your order. As mentioned earlier, standard shipping is included for customers in the continental United States.
ITEM # ........ DESCRIPTION
MRC-6500 Race Car Scales (4) 1600 LB CAP Scales & Digital Weight Readout AC/Batt Pwr
Options Available
Transport Cart
Ramps
No rating yet... Be the first to rate this product!