Pennsylvania 7600-200 Industrial Counting Scale
$

799.00
Reg. Price $995.00
You Save $196.00
in stock
Pennsylvania 7600-200 digital parts counting scale features a large 200 pound max capacity. Ideal for counting fairly large items, shipping or receiving verifications, inventory or production control, powerful and flexible std. RS232 data link, heavy duty cast construction.

7600-200

FAST, ACCURATE AND DEPENDABLE. The Pennsylvania Scale 7600-200 counting scale with 200 pound max capacity and readability of 0.02 lbs, feature heavy duty cast construction, premium load cells, and bright LED display. Accurate and reliable in a wide range of applications. Full numeric keyboard. Simplified, one button counting. Automatic Sample Update. 1 part in 1 million resolution. Weight displayed in 2 units of measure plus count. 12"x14" weighing platter.

7600+ Counting Scales - Enhanced Features and full keypad entry
Single or Optional Dual base counting

Modern replacement for legendary 5400, 5400EXP, and 5600 series scales with consistent operation features to reduce confusion and training time yet added features:
Single button or 2-button operation
Auto sample-to-bulk counting with optional 2nd base
Keypad entry of sample sizes (plus 10-20-50-100 pieces), Tare Weight, Average Piece Weight (APW)

Optional 2nd Base Input for Sample-to-Bulk counting requirements available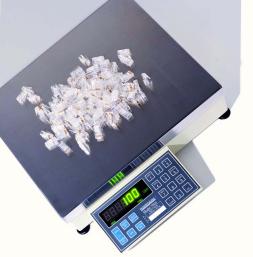 Expanded features and optional Dual Base operation for Sample-to-Bulk dual base counting make the 7600+ a widely accepted counting scale and one of the most popular units for physical inventories.

Ideal for:
Shipping or receiving verifications
Inventory or production control
Powerful and flexible std. RS232 data link
Heavy duty cast construction
7600+ Counting Scales
Utilizing PLUS+ series Main Board technology are designed to be user-friendly and highly productive, provide long accurate service. Pennsylvania Counting and Weighing scales and indicators are intentionally clean by design. These 7000 Series products feature
4-Year Limited Mfg. Warranty
10,000 displayed weight graduations
One button operation plus enhanced features for better accuracy
Rugged cast construction
Made in USA, ship NAFTA Free Trade to Mexico and Canada
Large platforms: 12 x 14" platters for capacities 10, 20, 25, 50, 100, 150 and 200 lbs
8 x 8" platters for highly sensitive 2 and 5 lbs capacity models
4 Year Limited Mfg. Warranties - the best in the business!
No rating yet... Be the first to rate this product!