Pennsylvania 7600+ Digital Weight Indicator
Pennsylvania 7600+ is an affordable choice in material handling and shipping and receiving applications, the Pennsylvania 7600+ digital weight readout is practical indicator for floor and bench scales. Aluminum Die Cast enclosure. Counting function. Full keypad. NTEP Approved.

7600+
PENNSYLVANIA PLUS SERIES 7600/4 DIGITAL WEIGHT READOUT FOR SCALES
The 7600+ from Pennsylvania Scale offers a clean, compact Aluminum Die Cast Enclosure -- Quick access enclosure and set up -- Adjustable U-Bracket for bench or wall mounting -- Versatile Full Keypad works great for counting and weighing -- Automatic Sample Update for superb counting results -- Powerful 16 bit microprocessor for speed and accuracy -- NEW Audit Trail accountability feature -- Standard RS-232, RS-485, RS-422 and Current Loop interfacing -- Standard Remote Display output connector -- 100% plug and play compatibility with just about any load cell platform (still requires calibration with weight) -- Off-the-shelf flexibility for a wide range of applications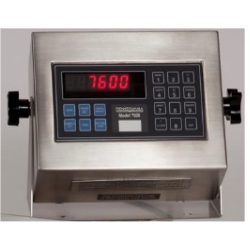 | | | |
| --- | --- | --- |
| FEATURE SPECIFICATIONS | | |
| One Button Counting | YES | YES |
| Automatic Sample Update | YES | YES |
| %-Accuracy or Error Display | | YES |
| Full Numeric Keypad | | YES |
| 2 Weighing Units | YES | YES |
| Input and display of Piece Weight, Tare Weight, 6-digit I.D., Sample Quantity, Gross/Net weight | | YES |
| Bidirectional digital interface | YES | YES |
Pennsylvania 7600+ COUNT WEIGH INDICATORS SET THE STANDARD for New and Replacement applications
1:16 million internal counts
Suitable for Commercial Applications
Choose 2 Weight Units plus COUNT feature
Clean, productive design is easiest to use
Adapts to a wide range of platform capacities and applications
Plug & Play to existing Pennsylvania Scales back to 1978 (circular load cell connector) plus direct wire kit included with each unit for easy installation or wet areas
UPS Online compatible plus many other imbedded features via standard RS-232
No rating yet... Be the first to rate this product!