Salter Brecknell PS-1000 Multi Purpose Scale
Operates on four AAA batteries (approx battery life 20 hrs) or AC adapter, both included. Includes a weight indicator with black plastic bracket for wall or stand mounting. Scale weighs around 60 lbs w/ 2 easy access carry handles which make scale convenient to relocate. No need for ramps or recessed floors, as this unit comes with ramped ends. Platform: 55.5" x 20.1" x 2.5" Cap: 1000 x 0.5 lb. Ground Shipping included for cont'l US

PS-1000
The Salter Brecknell PS1000 is a versatile platform scale with built in ramps on each end. The scale could be used in various envirnoments from livestock to industrial applications. The digital weight indicator is a backlit LCD which can be powered by regular 110VAC power or AAA batteries. The scale is relatively lightweight which allows it to be carefully moved to locations that you need to weigh items. The ramps are built in on each end and make rolling a cart on to the platform much easier.
The PS-1000 runs on four (4) AAA batteries, with approximately battery life of 20 hours or 6 VDC, 500mA AC adapter, both included. The scale system includes the weight indicator with black plastic bracket for wall or stand mounting. The scale platform itself weighs around 60 pounds and has two easy access carry handles which make scale convenient to relocate. No need for ramps or recessed floors, as this unit actually comes with ramped ends as part of the weighing platform. The Brecknell PS 1000 livestock scale features a large 1000 pound capacity with readability of 0.5 lbs increments. Ground Shipping included for cont'l US customers.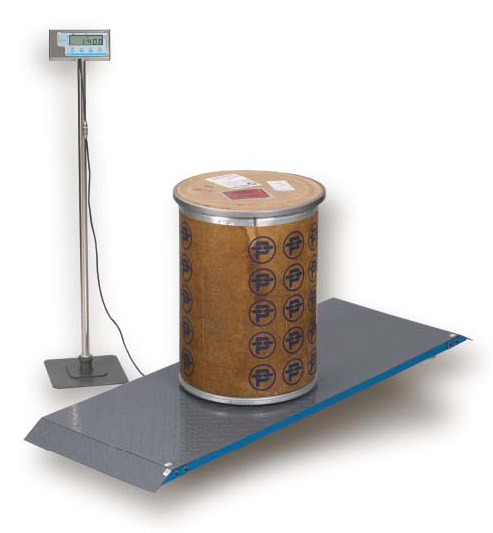 PS1000 shown with optional indicator stand
Accurate - Provides consistent accurate readings with an indicator for fast digital read out.

Portable - Weighing only 60 lbs, two easy access carry handles makes this scale convenient to relocate. No need for ramps or recessed floors, as this unit comes with ramped ends.

Economical to Own - There are no installation costs and no moving parts that require maintenance or adjustment.

Versatile - Accomplishes a multitude of weighing jobs: livestock, pets, feed carts, bulk containers, shipping and receiving and more!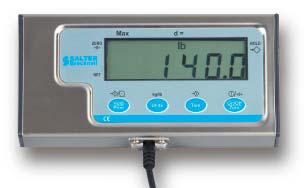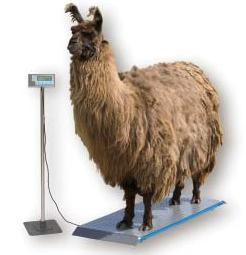 | | | | |
| --- | --- | --- | --- |
| Model | | Description | |
| PS1000 | 816965001460 | 55.5" x 20.1"x 2.5" Capacity: 1,000 x 0.5 lb. Mild steel platform | 68 lb |
OPTIONS: 52751-1844 Indicator stand
Salter Brecknell PS-1000 Mu... reviews

Global Rating: 5.00 from 1 reviews
See all reviews
Add your review of this product
Llama/alpaca folks should know
Mar 3, 2010
Karen Miller
Bristol Va US
We bought this scale when it first came available a couple of years ago.. We use it to weigh LLAMAS.(ok, we had fun weighing our dogs and even a pig) It... more...