Brecknell Portable Drum Weigher Scale model DS1000 comes calibrated with an SBI 100 Indicator for a complete weighing system. The 1,000 lb (500 kg) platform is powder coated rugged steel with a smooth top surface with built in ramps. It also has two handles and wheels for ease of move ability from one site to another and adjustable feet for unlevel floors. The weighing platform of 31.5" x 31.5" (800 mm x 800 mm) with the estimated height of 1.8" (46 mm) and weighing only 106 lbs (48 kg) makes this a nice portable scale.
The included SBI 100 digital readout has a 6 digit 0.8" (20 mm) easy to read LED display and a rechargeable lead acid battery with a run time of 30 hours of continuous use between charges. The indicator comes standard with wall mount, desktop or fittings for an optional stand. Features include tare, unit switching, and hold function along with full duplex RS-232 for communication to a printer or PC.
PRICE INCLUDES FREIGHT (cont'l US) - ships LTL freight on a pallet to business locations with loading dock or forklift. Any other fees are buyers responsibility.
Accuracy - Provides consistent accuracy within 0.1% and comes equipped with a simple to operate indicator for fast LED digital readout
Construction - Powder coated rugged steel with smooth top plate surface and two handles and wheels to easily relocate. Adjustable foot pads to work effectively on uneven floors. Built-in ramp ends for recessed floors
Low Profile - 63.5 mm (2.5") high
Easy Assembly - No installation costs or parts that require maintenance. Just place the scale on a hard surface and level by adjusting the foot pads. Connect the power and you're ready to go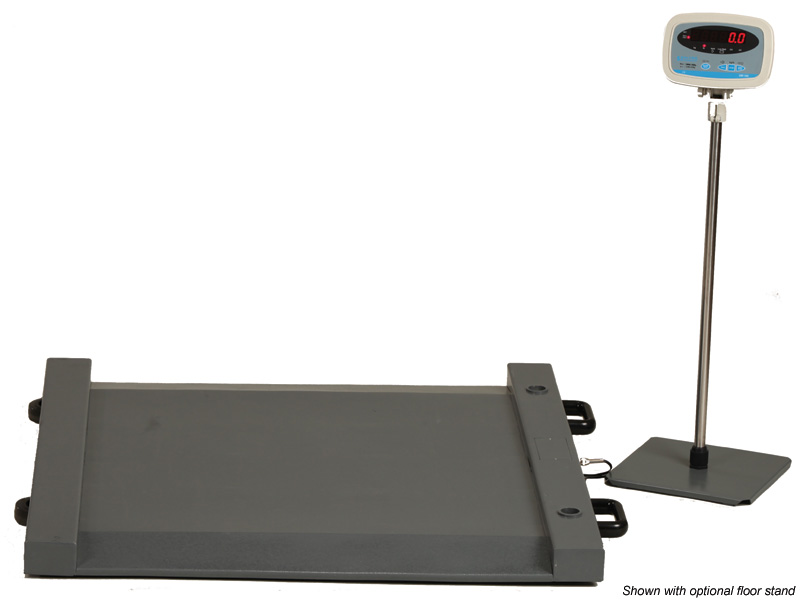 SPECIFICATIONS
Drum Scale Capacity: 500 kg x 0.2 (1,000 lb x 0.5 lb)
Loadcell Interface Cable: 3 m (10')
Overload Capacity: Capable of withstanding 150% capacity of weight without damaging the scale
Construction: Powder coated rugged steel with smooth top plate surface with four 1000 ohm loadcells
Unit Dimensions: Weighing platform: 800 mm x 800 mm x 46 mm (31.5" x 31.5" x 1.8")
Packaging Contents: Platform, Indicator and Hardware
Warranty one year limited from shipment
Digital Readout Construction: ABS plastic
Display: 6 digit 20 mm (0.8") LED display
Annunciators: On/Off/Zero; Tare; Units; Hold/Print
RS-232: Full Duplex, standard 9 pin straight pass through interface connector (interface cable included)
Keyboard: On/Off/Zero, Tare, Units, Hold/Print
Power: 120/220VAC @ 60/50 HZ, 12 VDC, 500mA, UL, CE & BS approved external power adapter
Rechargeable Internal Battery: 6V4AH lead acid battery up to 30 hours of continuous use between charges
Operating Temperature: 5º C to 35º C (41º F to 95º F)
Mounting: Wall mount, Stand or desktop bracket
Tare: 100% subtractive
Auto-off: Selectable between 1 to 15 minutes after inactivity
Resolution: Display: 500 -100,000d; internal approximately 520,000 counts
Portable Drum Weigher Scale featuring a powder coated rugged steel platform with a smooth top surface and built in ramps. Includes an SBI 100 indicator with 6 digit, red LED, easy to ready display
| | | | |
| --- | --- | --- | --- |
| Model | | | |
| DS1000 | | 31.5" x 31.5" / Capacity: 1000 x 0.5 lbs | |
No rating yet... Be the first to rate this product!