This laboratory balance from Weighsouth is the perfect blend of accuracy and affordability. It comes complete with 600 gram capacity. The weighing platform is 5 inches diameter. WeighSouth is a leading provider of scales and balances for the laboratory, education, industrial and specialty markets worldwide. WeighSouth has earned its reputation as a trusted provider of precise, reliable and affordable products that meet virtually any weighing need. WeighSouth understands the importance of getting products to you fast. That is why stock is almost always available for fast shipment. Since 1990 WeighSouth has been offering excellent quality, service and value in all its products.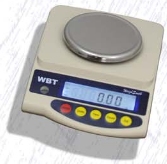 WBT BALANCE FEATURES
* Capacities from 100g to 5100g
* Readability from 0.001g to 0.1g
* Stainless Weighing pan
* Adjustable Leveling Feet with Level Bubble
* AC (included) or 8 AA Batteries
* Backlit LCD Display
* Multiple Weighing Units
Model

WBT-100

WBT-602

WBT-5001

Capacity

100g

600g

5000g

Readability

0.001g

0.01g

0.1g

Weigh Units

g, kg, oz, ct, lb, t, ozt, dwt, GN

Power

8-AA alkaline batteries (included) or AC adapter (included)

Pan size L x W (in/cm)

3" dia

5" dia

7" x 6"

Draft Shield

6.5" x 6.5" x 6"

n/a

n/a
Weigh South WBT-602 Lab Bal... reviews

Global Rating: 5.00 from 1 reviews
See all reviews
Add your review of this product
Owner
Sep 7, 2013
Michael Gadd
Belton Te US
Great scale and great Price! more...