The Health-o-Meter 2400KL portable wheel chair scale accommodates most any wheelchair. Industrial strength construction for long-lasting reliability from a name you can trust HealthOMeter. Great wheelchair scales for home use, if you're traveling, or if you're a nurse who needs to weigh home bound patients easily.
EMR Connectivity - Scale has the ability to interface with a computer, EMR software or other electronic device via various Health o meter® Professional Connectivity Solutions
Easy Mobility and Storage - Track base folds for compact storage and easy portability Digital Portable Wheelchair Scale 2400KL
Remote Display and Adjustable - Tracks Display can be mounted on wall or placed on table, Wheelchair rails expand and adjust from 25 3/4" to 50 1/8" to accommodate all standard and bariatric wheelchairs
Value-Added Features - Operating functions (LB/KG Conversion, LB/KG Lock Out, BMI, Zero Out/Tare, Hold/Release, Reweight, Recall, Auto Zero, Auto Off) included at no additional cost
Calculates Body Mass Index - (BMI) Scale functions include the ability to calculate the patient's Body Mass Index (BMI)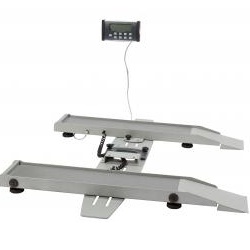 2400KL expands & adjusts from 25 3/4" to 50 1/8" to accommodate wheel base of all standard and bariatric wheelchairs.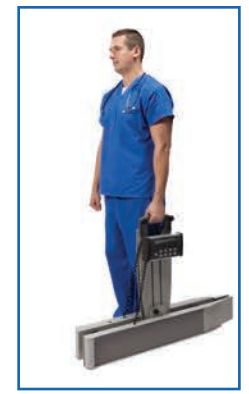 Health O Meter 2400KL Wheelchair Scale Specifications
● Capacity: 800 lb / 363 kg
● Resolution: 0.2 lb / 0.1 kg
● Platform Size: Expands and Adjusts from 25 3/4" (654 mm ) to 50 1⁄8" (1273 mm )
● Rail Size: 6" (w) x 40" (d) / 152 mm (w) x 1017 mm (d)
● Display: LCD, Remote Display
● Connectivity: USB
● Power Source: 110-240V adapter included, 6 AA batteries (not included)
● Functions: LB / KG Conversion, LB / KG Lock Out, Body Mass Index (BMI), Zero Out / Tare, Hold / Release, Reweigh, Auto Zero, Auto Off
● 2 Year Limited Warranty
No rating yet... Be the first to rate this product!