This item ships via freight. Please contact us before ordering if a lift gate is required for delivery.
The LWC-800 wheelchair scale is the most affordable scale for weighing patients confined to wheel chairs, and also has the ability to perform as a bariatric scale. The LWC wheelchair scale features 800 pound max capacity with 0.2 lb. increments. Built-in transport castors make it possible to move the scale around your clinic with ease.
The LWC800 wheel chair scale aluminum platform is lighter than most competitive models. The overall platform is 42" x 39" x 3" high while the actual weighing surface is 39" x 38" x 1" ramp. The scale can be powered by regular 110VAC power or AA batteries. This is probably the best price versus quality portable wheelchair scale that you're going to find on the market overall. The brand is an economy brand but they do make good scales that are popular with customers.
The scale normally ships via LTL freight which means it is strapped onto a pallet and shipped to locations that have a forklift or loading dock. If you don't have one of these, let us know and we can setup a delivery with additional liftgate charge.
Ground Shipping Included for cont'l US, Normally ships via LTL truck
LWC 800 WHEELCHAIR SCALE FEATURES
1.8" LCD w/ backlight
Weighing Surface: 39" x 38" x 1" ramp
Platform: 42" x 39" x 3" high
Internal Wiring in Column
Aluminum top platform
Wheels for portability
Light weight and sturdy
AnyCAL Software - Pre-calibrated for ease of use
AC Adapter included or use 6 AA dry cells
Units: kg, lb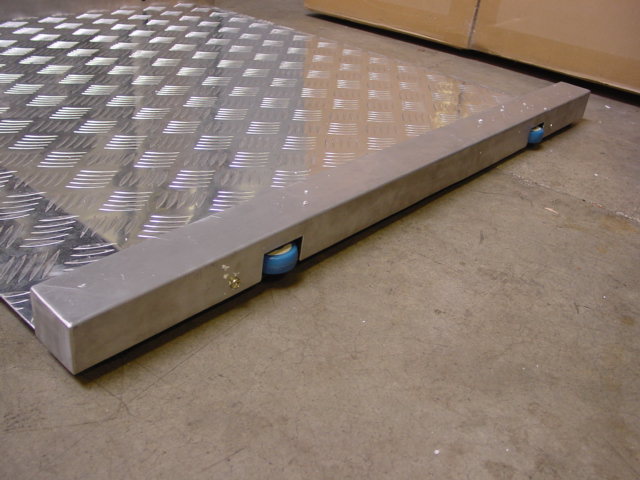 The LWC-800 (Large Wheelchair Scale), 800 lb x 0.2 lb with extra large aluminum deck and stainless steel rail is a great value. Our price is fantastic and the scale features a two year limited mfg. warranty. This is a far better value and aluminum deck material cost is 10 times more than steel, it is also much lighter and more portable. Total weight is only about 85 lb. Clinical and hygienic. Weighing platform is less than 1 inch high, making it a breeze to wheel up on a wheelchair or mobility scooter.
The Tree LWC 800 is a versatile easy-to-use, highly accurate wheelchair scale for acute and long-term care providers. This unit has all the top features that you could ever need for the money: Portable, large platform, lightweight, battery power, handrail...etc... We know taking care of patients that can not stand on a standard scale can be a difficult task without the proper equipment. That is why we offer this affordable wheelchair scale that is portable. So if you're looking for the best wheelchair scale for the money, this LWC has to be in the running.
LWC-800 Wheel Chair Scale
LWC 800 SPECS
Capacity x Readability: 800 x 0.2 lb
Weighing Units: pounds / kilograms
Display: LCD (backlit)
Power: 110 VAC / (6) AA (not included)
Weighing Surface: 38" x 39" x 1"
Shipping Weight: 85 lbs
LWC-800 Portable WheelChair... reviews

Global Rating: 4.00 from 1 reviews
See all reviews
Add your review of this product
registered nurse
Aug 10, 2011
Sandra Nedwed
Waverly Ks US
I love this wheel chair scale. I weigh approximately 50 people weekly and this scale has made a great difference in how easy it is to complete this. more...