Used Industrial Floor Scale 4x4 5000 lb
$

899.95
Reg. Price $1,295.00
You Save $395.05
InStock
Used 4x4 5000 lb floor scales are in very good condition. All 48"x48" scales are constructed of painted mild steel. System also includes basic AC powered digital readout with red LED display. Ideal for warehouse and manufacturing applications. Approx 15' of load cell cable between readout and the scale. Capacity 5000 lbs x 1 lb. Price includes freight cont'l US to business addresses only (Zoned Commercial) with a loading dock or forklift. All other charges are the buyers responsibility. (Liftgate, Residential, Construction, Military).

Used-4x4-5K-Floor-Scale
Used low-profile 4'x4' 5000 lb. floor scale with Digital Readout offers quality construction and components at an affordable price! Our 48"x48" pallet scales are built to meet the requirements of light industrial applications. These are scales that are in very good condition. Now we are offering them to you at an exceptional price! This is the best value you're going to find for a QUALITY used 4'x4' (48"x48") floor scale with Digital Readout!
The quality construction starts with a laser cut top plate decking. This combination forms a tough, rigid weighbridge. Nickel-plated tool steel load cells are used. (4) Leveling feet are fully adjustable and provide a stable base with flexibility to compensate for imperfect mounting surfaces. Available in the standard capacity of 5,000 lbs x 1 pound increments, with platform size of 4' x 4' x 3.5"
System includes a standard digital readout with bright red LED calibrated to the floor scale. The readout is a general purpose, "no frills" digital indicator with a display for easy read out. All setup parameters may be EASILY entered via the front panel keys. Approximately 15' of cable between the digital indicator and floor scale. System usually ships 2 to 4 days after order is placed. Shipping weight is around 380 lbs. The scales being offered are non ntep, which means they can not be used for buying and selling based on weights. The pictures displayed are designed to give you an idea of what the item(s) look like. Your scale deck may be a different color and the digital readout may be a different design.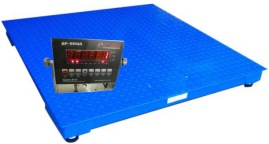 PLATFORM ................ CAPACITY ............. DISPLAY .............. POWER
4x4 ............................ 5000 x 1 lb ............... LED .................... 110VAC
PRICE INCLUDES FREIGHT (cont'l US) to business addresses only (Zoned Commercial) with a loading dock or fork-lift. All other charges are the buyers responsibility. (Liftgate, Residential, Construction, Military)
LIMITED QUANTITIES AVAILABLE