We are proud to offer the WS-100 Wrestling Team / Locker Room digital weight scale. This scale was designed to be the perfect choice to replace the old mechanical scale you've seen in the past and is ideal for locker rooms and college or high school wrestling teams!
The WS100 digital scale is built with materials usually found in more expensive industrial scales. It combines quality ISO manufacturing with sleek styling to produce a person weigher that is not only cosmetically pleasing but industrial tough.
If your needs are accuracy and you do not need a super heavy weight capacity, this is the scale for you. The repeatability is unbeatable and this scale will offer years of continued usage. It can be used with or without a column, display is an easy-to-read LED and the scale can operate on AC power or rechargeable battery. What you get is great scale at a price you can afford.
WS100 Wrestling Scale Features
Easy to read LED Display
Can be used with or without column
RS232 Interface
Adjustable Auto Shut-off Timer
AC and Battery Powered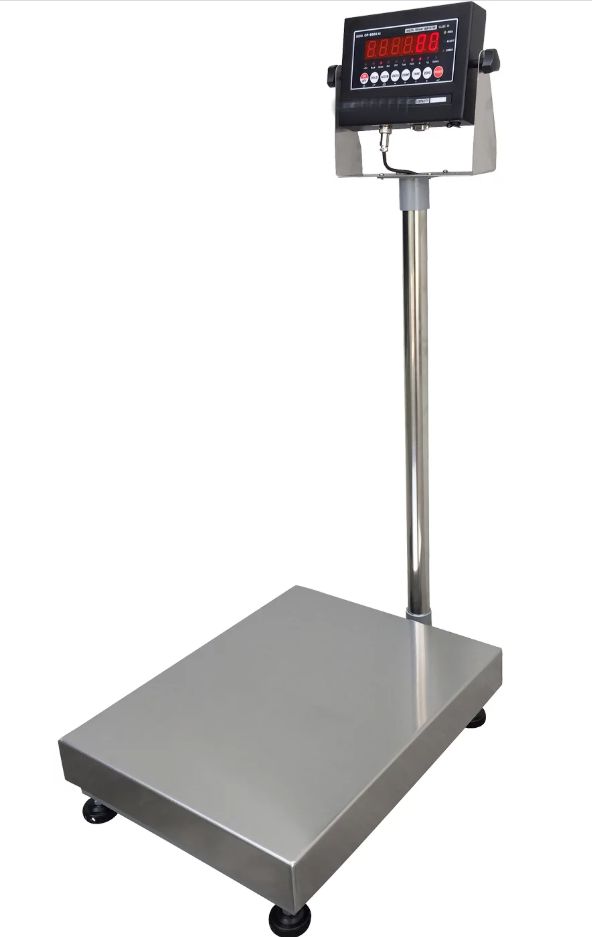 20" x 20" x 4.25" Platform with 500 lb Capacity Can be used with or without the 24" Column
Column or Desk Mount Indicator – Attach the indicator to the 24" stainless steel column or remote the indicator up to two feet without the use of column
Industrial Style Mild steel platform - with 304 stainless steel tray for easy cleaning
Accurate Load Cell - Aluminum environmentally sealed single point load cell
Adjustable feet on each corner provides exceptional accuracy
Easy to Read Weight Readout with 6 digit, 1" display and AC / rechargeable battery power (includes power adapter/charger)
RS-232 serial port built into the weight indicator
Robust Design – Re-enforced painted mild steel base, stainless steel weight platter and pole, robust weight indicator with strain relief connections, and adjustable foot assemblies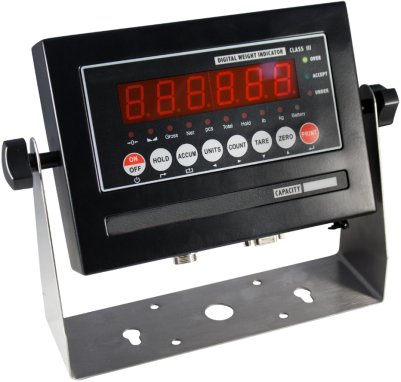 Easy to read Red LED display
Construction – Mild steel base, stainless steel top cover and display pole, weight indicator
Tare – 100% subtractive
Display – Six digit 1" high red LED display
Annunciators – zero, gross, net, kg, lb, hold, low battery, battery charging, mains connected
Function Keys – Power Switch, On/Off/Zero, Tare, Units, Hold/Print
Auto-off – Selectable between 1 to 15 minutes after inactivity
Power: 120V AC
Battery Life – Up-to 35 hours of continuous use
Operating Temp – 41° F to 95° F (5° C to 35° C)
Product Weight – 55 lb
Packaging Contents – indicator, base w/ loadcell cable, pwr supply, SS mounting pole, mounting hdwre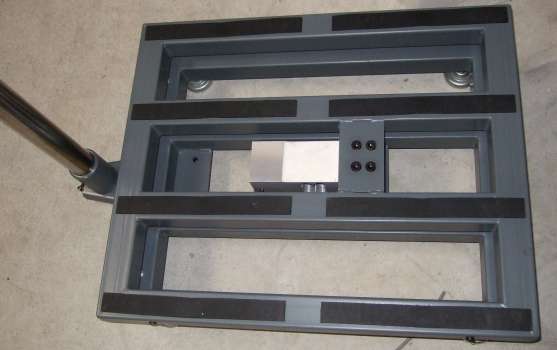 Take the platform cover off to find Heavy Duty Platform Construction
Model .................... WS100
Capacity ................ 500 lb x 0.1 lb
Display .................. Six Digit 1 inch tall bright LED
Shipping Weight ... 60 lbs
Power ................... AC transformer (included) or Rechargeable Battery (included)
Battery life ............ Approx 35 hrs cont use (estimated)
Base Size .............. 20" x 20" x 4.25" w/ Stainless Steel Platter
Column ................. 24"
WS100 Wrestling Team Locker... reviews

Global Rating: 4.88 from 8 reviews
See all reviews
Add your review of this product
Awesome scale
Feb 4, 2014
Jerry West
Vienna VA US
I bought this scale for my 14 year old freshman wrestler as our older scale was always off a pound or so of the high school's official scale. This WS100 is... more...

Athletic Director
Nov 13, 2012
Tom Mandich
Kitchener On CA
The product is fabulous. Thank you for your speedy delivery and your professionalism. more...

SCALE
Aug 28, 2012
Purchasing
MN US
GOOD SCALE THAT IS EASY TO USE. more...

Happy Customer
Dec 28, 2010
Robert
Columbia MO US
Happy customer, scale is as described. Easy to use and probably took about ten minutes to unpack and use. Will buy again more...

GREAT SCALE
Dec 8, 2010
Aaron
Norwalk IA US
We needed a heavy duty scale with large platform and this scale delivered. Thanks more...