The Sportsman Deluxe fishing tournament weigh-in scale features an easy to use "Sportsman" style weight indicator along with the "industrial" style weighing platform which includes four adjustable feet and single point load cell.
The AC/Battery powered scale includes a 50 pound capacity with custom Tournament Fish Weighing Lock "motion hold" software built into the weight indicator. This system is primarily designed for tournaments that have a tight budget and don't require a NTEP legal for trade system.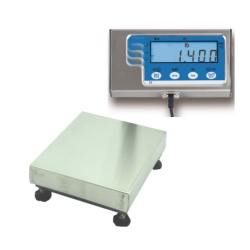 The Sportsman Deluxe includes a 12" x 14" industrial style scale platform with adjustable feet and high quality single point load cell. The system also includes an easy to read LCD digital indicator that can display weight in lbs or lbs:oz. The indicator can be placed up to 3' away from the platform via the cable. The stainless steel weigh table is big enough to accommodate buckets, totes, or any other weighing container. Not washdown safe.
Customers often ask about the term washdown and can the scale get wet? With the Sportsman Deluxe, the answer is the weight indicator can not get wet. It is not designed for that. The scale platform can get some water on it and it should not cause any issues. You can not submerge the scale platform in water. It is best to make sure the load cell located inside of the scale platform does not get wet.
The Sportsman Deluxe Series features a full-duplex RS-232 interface that can transmit and receive using a demand type protocol. This feature allows a large remote display to be attached for tournament crowds. This is available as an optional accessory.
The Sportsman Deluxe features a 12" x 14" platform which allows for easy weighing. Please keep in mind, the Sportsman Deluxe is a low cost, yet versatile and relatively portable scale. Please note this scale is not wash down safe and is not NTEP approved legal for trade. But, if you're looking for a basic digital scale with lbs:oz, battery power, hold function, remote platform with adjustable feet, serial port... etc... all at a good price, this is the scale for you.
Specs

Capacity (lb)

Platform

Sportsman Deluxe

50 x 0.01 lb

12" x 14"

Power

Battery (4) "AAA" and/or AC power (Approx battery life 20 hrs)

Interface

Standard RS232 Serial

Operator Keys

On/Off/Zero, Tare, Units (lb/kg), Hold/Print

Construction

Mild Steel Base with Stainless Steel platform cover with mild steel understructure, and stainless steel/ABS indicator with wall bracket and desk mount included. (Indicator not designed to get wet)