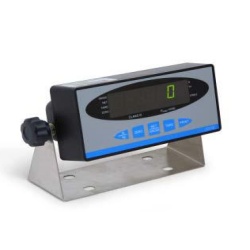 Salter Brecknell 200E Digital Weight Readout

The Salter Brecknell 200E is a general purpose, "no frills" digital indicator housed in a standard black ABS enclosure. It comes with a large (.6") green LED screen for easy read out of up to 50,000 display divisions,and supplies enough current for up to four 350-ohm load cells. All setup parameters may be entered very easily via the front panel keys. Please note, these are being phased out. If you order the 200E you will instead receive the TI-500E which is virtually identical to the 200E.
The 200E uses full duplex RS-232 serial format for communication with many types of attached support equipment. The unit can transmit data on demand, or continuously in a popular data protocol to match a wide variety of printers, remote displays, or personal computers.
Applications
Mechanical Conversion Kit
Floor / Deck Scale Indicator
Manifest Systems
Standard Features
High Quality / Low Cost
NTEP Approved for 5,000 divisions
Full Duplex RS-232 Serial Port
Easy to Read LED Display
Displays up to 50,000 graduations
Drives up to four 350-ohm Load Cells
Full Front Panel Configuration
Stainless Steel Swivel Stand
AC Adapter
Display Resolution: Up to 50,000 external grads, selectable
Key Functions: LB/kg, Zero, Net/Gross, Tare, Print
Annunciators: Gross, Net, kg, LB, center of zero, stable, tare, negative
Serial Port: Full duplex RS-232 format
Power Requirements: 12 VDC, 650 mA Wall Adapter, included
Power Consumption: 80 mA + 30mA/350-ohm load cell
Operating Temperature: 10° C to 40° C (-14° F to 104° F)
Indicator Dimensions: 3.2" x 6.8" x 2.3" (81 mm x 173 mm x 57mm)
Warranty: 1 year limited warranty applies
NIST Classification: H-44 Class III at 5,000 divisions C.O.C. # 95-006
No rating yet... Be the first to rate this product!