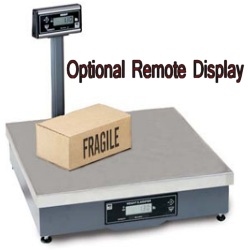 Mailing & Shipping Parcel Scale NCI 7880 Flattop Platter 100 lb Capacity
Easy to use and reliable
With its fast digital response and large 18 x 18 weight platter, the NCI 9503-16934 easily accommodates oversize parcels or containers in the shipping room. With the DuraBridge™ technology the NCI 7880 withstands the rigors of day-to-day use. NCI Model 7880 has NTEP and Canadian Weights and Measures approvals, to ensure accuracy and conformance with weights and measures.
NCI 7880 Features & Benefits
DuraBridge technology Reduces overall scale deflection to less than 1/2 when a full load is applied.
Fast digital response Speeds weight processing time.
Large 18 x 18 weight platter Easily accommodates oversize parcels and containers.
RS-232 bi-directional output -- Allows for connection to a computer or smart terminal.
Uses standard PC cable to 9-pin "D" connector on scale.
Calibration Alternate span points can simplify field calibration using less than full capacity weights.
Overload protection -- Overload stops located in base of scale. Helps to protect load cell and extend the scale's life.
Simple to use Reduces operator training time.
Internal display Front mounted 1/2 H, 6 digit LCD.
RS-232 cable -- Allows you to connect to a PC.
NCI 7880 9503-16934 Specifications
Dimensions: 18( L) x 18( W) x 5.3( H)
Construction: Stainless steel weight platter and a painted die cast aluminum base.
Controls : Zero - With Auto zero tracking for zeroing the scale
Test- Runs a diagnostic program to assure the scale is fully functional

Power: 120 VAC +10% - 15%, 60Hz, standard 3 wire ground

Capacity: 100 x 0.02 lbs
Agencies
NTEP approved for NIST Handbook 44
Class III commercial applications (COC # 95-121A1)
Canadian Weights and Measures (# AM-5076)
CSA/CAN C22.2 M950
Operating environment
42 to 104 F (5C to 40C), Class III device
Humidity 10% to 95% RH, non-condensing
Input/Output RS-232, bi-directional, configurable 1200 - 19.2K Baud
Specifications subject to change without notice