Adam Equipment WBW 35a Wash Down Digital Scales
The Adam Equipment WBW 35a line of industrial wash down safe digital check weigh scales offers an outstanding selection of models with capacities to meet more of your applications. AC power and rechargeable battery.

WBW 35a

Adam Equipment WBW 35a Washdown Safe 35 lb. Digital Bench Scales are ideal for food preparation, food processing plants, and agricultural facilities. The Adam WBW scales feature IP65 rated wash down housing and large stainless steel weighing pan. Color indicators for Under, Ok, and Over limits make check weighing fast and easy, and a brilliant backlit LCD with capacity tracker, indicators for overloads, low battery, and auto power-off, make the Adam Equipment WBW wash down digital scale very user friendly. They operate with an AC adaptor or rechargeable battery pack for portability; both are included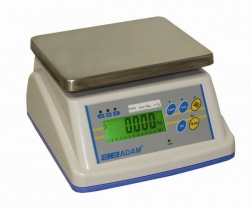 Large backlit LCD display
Capacity tracker
Check-weighing with low and high limits
Rechargeable battery
Stainless steel pan
g, kg, lb, oz and lb & oz
Optional Rear Display
| | |
| --- | --- |
| Key Points of Emphasis | Your Benefit |
| IP65 / NEMA 4 Suitable for wash down applications | Sealed design allows for washdown cleaning in food applications or messy environments. |
| Color LED Check Weigh limit indicators | Allows Operators to quickly perform check weighing without reading weights. Amber, green, and red LED's show if a sample is underweight, overweight, or acceptable |
| Brilliant backlit LCD display w/ capacity tracker | The capacity tracker helps prevent users from exceeding the scales capacity when repeatedly taring samples and the total load on the scale is unkown. The backit LCD is easily read under any lighting condition. |
| Portable with Rechargeable Battery and AC adapter | Users can bring the scale to remote locations for operation up to 50 hrs on a charge. The AC adapter can be used when power is available or to recharge the battery pack. |
Check weighing product is faster than ever with the WBW's color coded LED indicators. Amber, green and red LED's quickly show you if a sample is within acceptable limits, over, or under, without looking at the actual weight.
An easy-to-read backlit LCD with capacity tracker shows capacity usage as well as the weight. The capacity tracker helps prevent users from exceeding the scale's capacity when adding ingredients or
making up batches.
WBW scales can be moved to where they are needed thanks to the internal rechargeable battery pack. And the vertical front panel makes them easy to read and operate on a counter, table or bench.
IP65 for wash down environments with extensive sealing both inside and out to give the ultimate in rotection for those wet applications. Advanced overload protection helps protect the scale from overloads and shock loading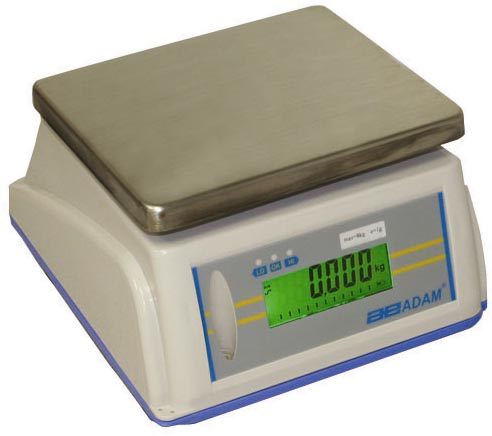 optional rear display
Adam Equipment WBW Technical Specifications
No rating yet... Be the first to rate this product!