Inscale LP7620 3x3 NTEP Floor Scale 10,000 lb.
You've been asking for a low cost NTEP legal for trade 3x3 platform scale and we have got it. Our Inscale 36" x 36" NTEP legal for trade system features a NTEP Legal for Trade Platform Scale factory calibrated to a NTEP Legal 115VAC Digital Indicator. There is 15' Cable between platform and indicator. This system includes a 1 year Mfg. limited warranty. BRAND NEW Freight Included to business locations with forklift or loading dock.(cont'l US)

LP7620-3636-10K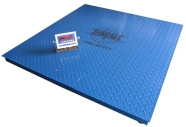 This versatile fully electronic Inscale 3x3 10,000 lb. capacity NTEP floor scale is for the widest variety of applications. The structural steel design withstands years of heavy industrial use. We ship standard scales from stock the next day. The scale is calibrated to its digital indicator (10,000 x 2 lbs.) at the factory and is ready to weigh when you receive it. The scale platform and digital readout are NTEP approved certified legal for trade. The basic keypad functions of the indicator are user friendly and a user manual is included. All you have to do to set-up the scale, is to remove the scale from the shipping pallet and plug the quick disconnect from the scale into the digital indicator and plug the 110VAC power adapter in. We reserve the right to substitute product of equal or greater quality due to availability on this item.
Free freight packages are to business addresses only (Zoned Commercial) with a loading dock or fork-lift. All other charges are the buyers responsibility. (Liftgate, Residential, Construction, Military)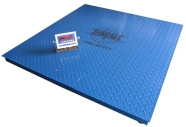 RUGGED - Durable NTEP approved platform design withstands heavy industrial use. Sum capacity of load cells is twice scale capacity. 100% mig welded Structural Painted Steel construction
ALL PURPOSE - Easy to install. Levels with lugs (no shimming). Easy to relocated.
HIGH QUALITY - Uses NTEP shear beam load cells. All structural bracing is structural steel channel iron.

NTEP Approved.
Specifications subject to change
No rating yet... Be the first to rate this product!