TI-500E Digital Weight Indicators are basically the industry standard when it comes to simple and easy to use weight readouts that can be connected to scales or load cells. The TI500E weight indicator comes complete with an AC adapter, 15 foot home run cable, and instruction manual. The TI-500E is a basic style digital indicator enclosed in a standard ABS enclosure. It comes with a (0.6") LED digit screen for easy readout of up to 50,000 display divisions, and supplies enough current for up to four 350-ohm load cells. All setup parameters may be entered via the front panel keys.
The TI-500 Digital Weight Indicator uses full duplex RS-232 serial format for communication with many types of attached support equipment. The unit can transmit data on demand, or continuously in a popular data protocol to match a wide variety of printers, remote displays, or personal computers.
Applications
Mechanical Conversion Kit
Floor / Deck Scale Indicator
Manifest Systems
Standard Features
High Quality / Low Cost
NTEP Approved for 5,000 divisions
Full Duplex RS-232 Serial Port
Easy to Read LED Display
Displays up to 50,000 graduations
Drives up to four 350-ohm Load Cells
Full Front Panel Configuration
Stainless Steel Swivel Stand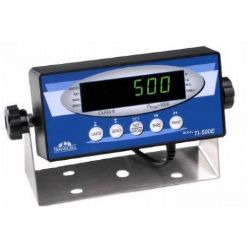 Catalog Page


TI 500 E Digital Weight Indicator
ABS NEMA 12 enclosure.
NTEP approved for 5000 divisions.
Gross, net, tare, print, ticket mode.
15 foot Home Run Cable
Full front panel configuration.
Indicator Dimensions: 3.2" x 6.8" x 2.3"
Stainless steel swivel stand.
Transcell TI-500E Digital W... reviews

Global Rating: 4.50 from 6 reviews
See all reviews
Add your review of this product
Replacement
Dec 20, 2016
Mike Samuels
Lenoir NC US
Online ordering was easy enough, as I found what I was looking for. Even though it was Friday it was shipped out in a timely fashion. Thanks, more...

Transcell TI-500E Display
Jul 18, 2016
James Scales
Tiverton RI US
Transcell Ti-500E is an easy to setup and easy to use display unit. A very economical choice that has great features and accuracy. more...

Maintenance Surervisor
Jul 5, 2016
Ken Hajduk
Berea Oh US
it was a perfect replacement indicator for my scale. more...

PURCHASING
Oct 16, 2014
Rebecca FLORES
FONTANA Ca US
GREAT more...

Transcell digital weight indicator
Jul 17, 2014
Jon Harshbarger
San Luis Obispo Ca US
The new one works great, it arrived here in good shape, and it is in play!! Thank You!! We had needed one for quite a while.. more...