I actually had been contemplating the purchase of a Peloton bike since my exercise routine over the past few years has been very sporadic. The bike looked appealing to me and the thought of competing against others across the world seemed exciting and motivating. 
I purchased the Peloton bike in April of 2020 and have been riding it about four days a week ever since.  I had never done any spin classes before so I was brand new to this idea. I had a regular bicycle that I rode around the neighborhood occasionally but otherwise I had no spinning experience in a class.  Below I would like to give you my Peloton review and my overall recommendations regarding usage and products etc…
DISCOUNTS & VALID COUPON CODES THAT WORK IN 2022
First thing to mention with almost all of you is PRICE! I'm sure if you're in the market for one of these indoor spin bikes that you have done some price shopping!  No question, the Peloton is not inexpensive.  I have used the bike for a couple of months now and I can tell you it is a really nice bike and it's definitely built to high standards. I guess you need to decide what your health is worth to you and compare the costs of the Peloton to those of other alternatives you may have such as joining a gym.
I evaluated the costs and I also considered the benefits and the realistic chance that I would actually follow through. I actually think part of the motivation for me is the fact that I have spent so much money on this that I feel somewhat obligated to actually use the bike on a regular basis! I mean that in a positive way. In some ways, the high cost holds me accountable. 
When I was searching and debating about purchasing the Peloton, I certainly struggled with the price but I have to admit that I'm glad I purchased it. If you're wondering, how do I get a promo code for peloton, the only "coupon code" that I've ever found is what's called a Peloton Referral Code. With this code, you can get some accessories for free which is nice. 

As I mentioned, I am glad that I purchased the bike. I hope you will do the same if you feel that you'll use it. I have a valid referral code above that you can use during your checkout that will allow you to receive up to $100 worth of Peloton accessories.    
PELOTON BIKE SHOES
When I was first researching whether or not to buy the Peloton, the shoes and the pedals were a subject I had never dealt with before. To simplify it for you, the Peloton bike comes with pedals that require a special bike shoe with Look Delta attachment. Technically I guess you could pedal without the special cleat but I wouldn't recommend that. You can see a pic below which shows the shoes with the cleat on the bottom. The cleats are actually the loudest part of the bike. When you clip in or clip out of the ride, that is the loudest part. So, if you're trying to exercise and not wake anyone up, you might want to keep your shoes clipped in ahead of time.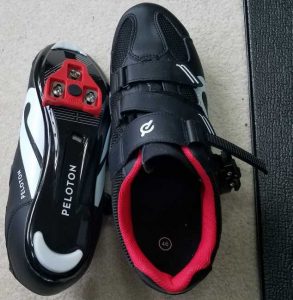 One other point I would suggest is to purchase your Peloton shoes with cleat directly from Peloton  when you're purchasing your bike. As I mentioned earlier, I even have a referral code you can use towards your shoes and accessories when you are checking out in the shopping cart.  
The reason I suggest buying your shoes from Peloton is the sizing. I had some trouble finding the right shoe size from other sources such as Amazon etc… and I had to buy from Peloton directly. 

PELOTON HEART MONITOR
I bought the package that includes the standard heart rate monitor from Peloton. It works fairly well, however there are two things that I don't like. First, the battery is a CR2032 type battery which needs to be replaced after a certain period of time. Of course, it usually fails at the worst time and often I either don't have the battery or can't find it.  Secondly, it doesn't seem to sync as well with the Peloton as I would like.  Overall, it's a nice heart monitor and could serve as a good backup for you but I would recommend something like the Scosche Rhythm for your daily use. You can find it just by doing a quick google search. 
PELOTON RUBBER MAT
Obviously you don't have to get the rubber mat from Peloton but if you buy a package and it comes with it, that's fine. It is a good quality product and I'm glad that I have it. Once again, if you purchase the bike you can use my referral code to receive $100 towards accessories at the time of the bike purchase. The best part is it's a valid Peloton code for 2022!  
WHAT TO EXPECT ON THE BIKE
I have to admit, there was a part of me that thought I could move up the leaderboard and ride with the best of them at the front of the pack. Well, perhaps after several years of training, perhaps I could do that!
However, you can absolutely ride and compete with others who are similar to you and it is motivating! When you're on a ride, you can choose to change the leaderboard to just show riders who are doing the same ride that you're currently doing. You can also give those riders a "high five" and you can also click on their profile and see what kind of cadence and resistance they are currently using.
I typically choose a ride that is somewhere between 15 and 30 minutes. That may not seem like much of a ride. However, I would argue that a 30 minute Peloton ride is pretty intense for the average person. You will sweat and then sweat some more. I usually choose my ride based on music. You can filter rides based on several selections such as ride time, instructor, music type etc….
Believe it or not, one thing that I have not done is a live ride. This surprises me since that was one thing that I was really looking forward to. However, once I received the Peloton, I never seem to be able to ride when there is a live ride. Many of the live rides seem to be at odd times for those of us on the east coast. One of these days I hope to do more live rides.
PELOTON WEIGHT LOSS
In my opinion and experiences, using this Peloton bike has been fun and it has been intense at times. Would I say that I've lost tons of weight? The answer is no. However, I will say that doing this consistently I have built more muscle in my legs and I feel like I'm getting in better shape and my overall body shape is improving if that makes sense.  Of course on this website, we sell scales, so there are a couple of scales we recommend for you Peloton bike enthusiasts.  
As I already eluded to, I haven't seen a whole lot of weight loss, so those of you searching for the best Peloton workouts for weight loss, you might be disappointed. I also think diet is important as well. You probably shouldn't go eat lunch at the buffet after you just did your workout.  But, you know all that already.  
A couple of scales to consider for your Peloton workout area would be the HealthOMeter 160KL. This is a mechanical dial scale that a lot of people like. One note I have to mention about this scale is that it's a little taller than the picture appears, so keep that in mind. The advantages of this are no batteries and simple design.
Another scale to consider is the Rice Lake DHH-10 digital home health scale.  It's designed to efficiently weigh up to 440 pounds. Users can alternate between pound and kilogram weighing with a simple press of a button. Featuring a bright LCD display and tempered glass weighing surface, the DHH-10 is battery operated and indicates to users when power is low.  And we have lots of other scales as well for you to consider.
Finally, I wanted to mention the actual riding. If you do purchase the Peloton, I suggest that you be patient and develop a routine. I would recommend that you ride a lot of 15 minute or 20 minute rides to start with.
For one thing, 20 minute rides are about all you'll be able to handle at first until you get used to the seat!  After a few rides you should get used to the seat hopefully.
But my point is don't ride a bunch of one hour rides and burn yourself out. Take your time and enjoy the riding experience. A 20 minute ride can do a lot for you each day. The instructors and the music are fun but sometimes a quiet and simple scenic ride is exactly what you need.
And, usually each week, I will take a day off or maybe even two days off. This gives me a chance to do some other type of exercise and also gives my legs a chance to recover.
I hope you learned something from this entry and I hope to see you on the Peloton leader board sometime (I'll be one of the one's in the bottom third).