Optima Scale Mfg Inc. develops and manufactures a complete line of the finest laboratory balances, industrial scales, LP7110Y load cells and electronic weighing instruments. From floor scales for weighing elephants to truck scales used at lumber mills in Alaska, the Optima line of weighing equipment has been operated in a wide variety of applications all over the world.
Optima Sensors stands for accuracy, reliability and competitive prices. Recently, with the evolving global market and especially the growing demand for weighing technologies in mind, they decided to broaden our business scope and establish a base in the U.S. in order to provide distribution, technical support, research and development.
The OP-310 load cell is an affordable strain gauge load cell that can be used in many applications such as floor scales. The OP-310-2.5 load cells may be used in for the applicable Class III L scales for multiple cell applications consistent with the model designations, number of scale divisions, and parameters specified in this certificate. Load cells of a given accuracy class may be used in applications with lower accuracy class requirements provided the number of scale divisions, the v"min" values, and temperature range are suitable for the application.
A pressure sensitive identification badge containing the manufacturer, model designation, serial number, capacity and NTEP certificate number is located on the load cell. All other required information, if not marked on the load cell, must be on an accompanying document including the serial number of the load cell. Similar to 30310, SQB, 5123, RL35023, 65023, 3411, TSB, & CG-23

Ground shipping included for customer located in the continental United States of America.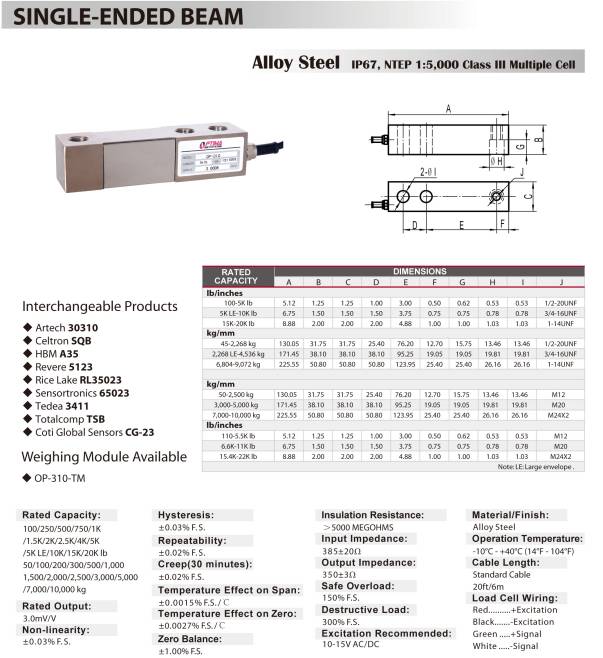 OP-310 2.5K Shear Beam Load Cell
Rated Capacity: 2500 lb
Accuracy Class: III
Rated Output: 3.0±0.1%mv/v
Non-linearity: ±0.02% F.S
Creep(30min): ±0.016% F.S
Input Impedance: 400±10Ω
Output Impedance: 352±2Ω
Operation Temperature: 10~+40℃
Safe overload: 50%F.S
Excitation Recommended: 4~12VDC, Max:15vDC
Cable: 4-wire with screen Exc(red),Exc-(black),Sig+(green),Sig-(white)
Construction: Alloy Steel
Application for: Floor scales, weighing module etc.
No rating yet... Be the first to rate this product!