The Salter Brecknell 200E is a popular basic digital weight indicator housed in a black ABS plastic enclosure. It comes with a large (0.6") green LED screen for easy read out of up to 50,000 display divisions, and supplies enough current for up to four 350-ohm load cells. Includes a home run cable as well. These are a great choice for indoor applications such as a floor scale for weighing pallets in a warehouse.
All setup parameters may be entered very easily via the front panel keys. The 200E uses full duplex RS-232 serial format for communication with many types of attached support equipment. The unit can transmit data on demand, or continuously in a popular data protocol to match a wide variety of printers, remote displays, or personal computers.
Please note, these indicators are no longer offered by Brecknell. So, if you order the 200E you will instead receive the TI-500E which is virtually identical to the 200E. Transcell manufactured both units. No matter which indicator you receive, you will need to setup and calibrate your new indicator once you receive it.
This is not a plug and play solution! You will need to do several things in order to make this work with your existing scale!
Please read the scale manual. When you receive this unit, you will need to connect the cable to your existing summing board. Then, you will need to setup the indicator using the settings in the instrument (primarily F1, F9, & F10). Then, you will need to do a zero cal (F16) and a span cal (F17). For the span cal, you will need to use a known weight that is ideally over 10% of the capacity. You can read more in depth instructions on the calibration by looking at page 10 of the manual.
If you will follow the instructions in the manual carefully, this indicator is one of the easiest weight indicators to setup & calibrate.
We have gotten a few requests from customers to tell them what the settings should be in certain situations, so here goes: For a standard 5000 x 1 lb setup, the defaulted selections that you see in bold in the manual should be right in the manual. For something like a 10,000 x 2 lb setup, the choices would be: F1= 5000, F9= 2, & F10= 0.
One thing that trips some folks up is the F1 setting. This setting is referring to the divisions or graduations (not the capacity). In most cases, F1 is going to be either 5000 or 10,000 because once again we're talking about the graduations. Most industrial scales are going to be setup to display 5000 divisions, such as 5000 x 1 lb or 10,000 x 2 lb. So, 5000/1 = 5000, 10,000/2= 5000, 500/0.1= 5000, 250/0.05 = 5000, etc.... Then, the F9 and F10 choices are where you determine your increment number and your decimal point.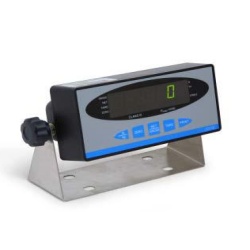 Salter Brecknell 200E Digital Weight Readout Applications
Mechanical Conversion Kit
Floor / Deck Scale Indicator
Manifest Systems

200E Standard Features
High Quality / Low Cost
NTEP Approved for 5,000 divisions
Full Duplex RS-232 Serial Port
Easy to Read LED Display
Displays up to 50,000 graduations
Drives up to four 350-ohm Load Cells
Full Front Panel Configuration
Stainless Steel Swivel Stand
AC Adapter (AWT05-501533)
Specifications
Display Resolution: Up to 50,000 external grads, selectable
Key Functions: LB/kg, Zero, Net/Gross, Tare, Print
Annunciators: Gross, Net, kg, LB, center of zero, stable, tare, negative
Includes HomeRun Cable ~ 15 ft long (200E cable available separately as well)
Serial Port: Full duplex RS-232 format
Power Requirements: 12 VDC, 650 mA Wall Adapter, included
Power Consumption: 80 mA + 30mA/350-ohm load cell
Operating Temperature: 10° C to 40° C (-14° F to 104° F)
Indicator Dimensions: 3.2" x 6.8" x 2.3" (81 mm x 173 mm x 57mm)
Warranty: 1 year limited warranty applies
NIST Classification: H-44 Class III at 5,000 divisions C.O.C. # 95-006
No rating yet... Be the first to rate this product!