AWB40-5K Portable 40" Weigh Bar System 5000 lb.
Portable set of weigh bars calibrated to digital weight indicator. In just a few minutes the entire scale is setup and ready to weigh. The system includes two 40" 2500 lb capacity weigh beams for a total capacity of 5000 pounds. Powered by battery and standard AC powered digital indicator enclosed in a NEMA 4X stainless steel case. Common applications for this fully portable scale system are under livestock pens, under conveyors, tanks, and hoppers. It is also ideal for long lengths of pipe or other difficult to handle materials. Total system capacity of 5,000 x 1 lb. Ground shipping included (cont'l US)

AWB40-5K
GROUND SHIPPING INCLUDED (cont'l US)
AWB40-5K Weigh Bars Set of (2) load bars calibrated with digital weight indicator are probably the finest in the industry both in performance and quality. It includes 2 complete weigh bars, 2 quick disconnect cables, and one stainless steel indicator with internal battery. These weigh bars are virtually watertight with sealing at the end of the bar as well as the feet. There are quick disconnect steel braided cables on both ends to make service a snap.
Most weigh bars on the market these days are brought over on a boat from China and have feet that are not very stable at all. These load bars are the exception to the rule. These have feet that are 6 1/4", galvanized, and can be mounted (if the customer desires) with cement bolts provided. We have been recommending and selling weigh bars for years and have finally designed what many feel are the very best available.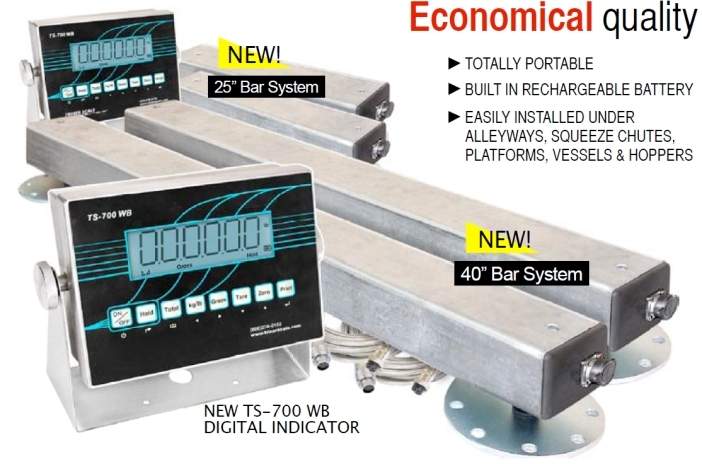 Each AWB-5K System Includes
• Two weighbars (choice of length either 25" or 40")
• Two 15 ft. cables, stainless steel shielded, quick connects at both ends
• AC adapter/charger
• Masonry anchor bolts (4)
• Platform/weigh bar bolts (4)
• Operating Manual
• Factory Calibration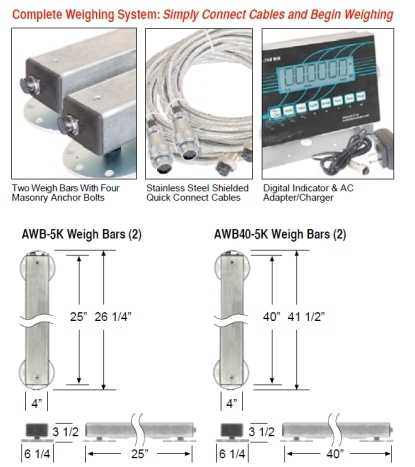 WEIGH BARS AND DIGITAL INDICATOR COMBO SPECIFICATIONS

WEIGH BARS
Capacity: 5000 lb x 1 lb
• Four premium, alloy steel nickel plated loadcells
• Loadcells are watertight for indoor or outdoor operation
• Loadcell capacity is 2 times the scale capacity
• Built in overload protection
• 15' quick connecting cables (2)
• Inegrated 1/2" nuts for top mounts
• Weight:
- AWB25-5K: 25 lb/bar
- AWB40-5K: 35 lb/bar

TS-700 WB DIGITAL INDICATOR (included)
* NEMA 4X watertight stainless steel construction
• Bright easy-to-read backlit LCD display
• Lb/kg conversion
• Tare function
• Built in RS-232 communications port:
• Tilt adjustable mounting bracket
• Operates on 110 VAC or internal rechargeable battery, 20+ hours operation per charge
No rating yet... Be the first to rate this product!