When it comes to the Torrey LPC-40L retail scale, our opinions of this scale have changed over the years to be totally honest. You see, years ago we sold a lot of these LPC-40L scales -- pallets of them actually... In fact, if you look around the internet many of our competitor's websites still use our product description to describe the product. But over the past few years we have recommended other products for the most part to our customers.
Why is that you ask? Without getting into a lot of specifics, what basically happened was we purchased our last pallet of scales from Torrey several years ago and the scales arrived and had one small issue. Rather than fix the issue, like almost any of our other suppliers would have done, the manufacturer in this case basically told us that it is up to us to fix it.
Now in our opinion, the LPC-40L scale is a good scale and it will work well for many of you. However, based on our experiences with this manufacturer, there is no doubt that we have better products and most certainly better factory support from other manufacturers. Sure, you may pay a little more, but you most certainly get better support and factory warranty from some of our other suppliers like Brecknell, CAS, and Rice Lake. This is our opinion based on what we've seen and experienced over the years.
Now we'll get back to talking about the Torrey LPC-40L scale features. Don't have a lot of counter space but need a price computing scale for your business? Then look no further than the Tor-rey LPC-40L digital price computing scale with NTEP Legal for Trade 40 lb capacity. With a footprint of only 9" x 12", this compact LPC 40L scale has the functionality you need without requiring a lot of space.
Take the guess work out of pricing with the Tor-rey LPC40L series NTEP Approved price computing scales. Designed for portable use with AC power and built in rechargeable batteries, the Torrey LPC-40L series is ideal for deli's, bakeries, candy and coffee shops, convenience stores, produce markets, hardware stores and more. Display on front and back.
The L-PC-40L is an invaluable tool for smaller markets, delis, grocery stores, butcher shops and bakeries, and is very popular at farmers markets thanks to its portability. Designed for minimum maintenance, the LPC-40L commercial scale offers an easy-to-operate keypad and easy-to-read displays on the front and back to take the guesswork out of calculations. Eight direct access memory keys allow for easy access to your most common items with the added functionality to retrieve information on up to 100 additional items.
Featuring an AC adapter and built-in rechargeable battery, this scale will meet virtually any weighing need in a variety of settings. The L-PC-40L will expedite the customer service process and help avoid weighing mistakes by providing minimum divisions to 0.01 lbs on this 40 lb capacity scale. The brushed steel cabinet and detachable platter are easy-to-clean.
L-PC Model Price Computing Scale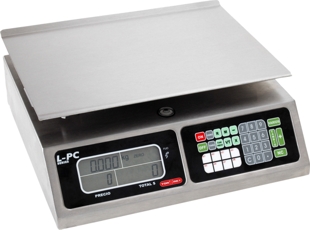 LPC-40L Scale Brochure (pdf file)
L-PC-40L Features & Benefits
Portable -- Works in reduce space thanks to its small size
8.7" x 11.8" platter size
115 VAC Power & Rechargeable battery
100 Price memories
8 Direct access memory keys
Backlight Display
Brushed Steel construction
NTEP Legal For Trade
Capacity: 40 x .01 lbs

So whether you're selling produce in a farmer's market, weighing fudge in a candy shop, or pricing sliced ham in a butcher shop, the compact and economical Tor-rey L-PC-40L offers what you need. So if you need a dependable and functional scale at a very affordable price, one option is the L-PC-40L scale.
Tor-rey LPC-40L Price Compu... reviews

Global Rating: 4.55 from 11 reviews
See all reviews
Add your review of this product
Review for Tor-rey LPC -40L
Apr 20, 2019
Brenda Woods
Danville Ke US
Really great scale. Just what needed. more...

best quality yet
Jun 18, 2013
Anonymous
US
We've had other scales but this one is the best so far. Very quick and responsive. Great price for a 40 x .01 lb scale. We use it for a lot of things -... more...

Manager
Aug 4, 2011
Anonymous

Really happy with this scale
Jun 14, 2011
Arlene
Bryant AR US
Bought this last week and it arrived two days later. It's a compact scale, nice size but not as big as my old scale which is fine. The scale is pretty easy... more...

GREAT PRODUCT
Dec 29, 2010
ROBERT
Red Springs NC US
GREAT PRODUCT, HIGHLY RECOMMEND TO MY SELLING FRIENDS! more...