PENNSYLVANIA 6600 4'x4' 2000 lb. FLOOR SCALE w/ 7600+ Digital Readout
Built Tough For Harsh Real World Applications – THOUSANDS OF SATISFIED CUSTOMERS
Proven Floor Scales: On-floor, In-floor, or Portable applications
Mild Painted Steel 48" x 48" Capacity 2000 lbs

All floor scales are not alike! Pennsylvania 6600 Series floor scales are designed for least life cost and sustained accuracy with features that outperform the competition:
Premium black powder coat finish
Premium Sensortronics™ or Coti load cells & (4) adjustable leveling feet
100% end loading capable of handling off-center loads or tanks
Heavy duty construction and low profile designed for portable or permanent applications
Wide range of capacities, platform sizes, and accessories such as ramps
Made in USA - ship NAFTA Free Trade to Canada and Mexico
Suitable for Commercial Applications (subject to local Weights & Measures regulations)
20' cable standard with Quick Disconnect
FIVE YEAR Limited Manufacturer Warranty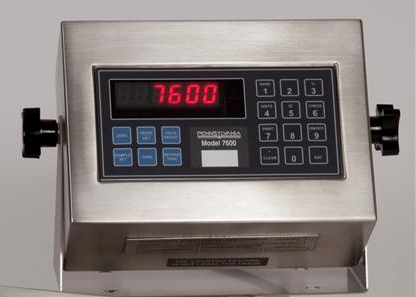 7600+ (full keypad)
BEST DEAL: No better floor scale on the market than our 48 x 48" and 7600+ PACKAGE complete FOB Lancaster, PA or Terre Haute, IN
USA MADE QUALITY
Ship skidded and precalibrated, ready for set-up-- plug and play right off the pallet!
Ideal heavy duty scale for shipping/receiving
20' cable to quick disconnect/digital indicator
Proven 7600+ indicator weighs in lbs/kgs
Buttons for ZERO, UNITS, SAMPLE SET, and PRINT
High accuracy counting and weighing
Standard RS-232 output with programmable data string
2000 lb. capacity
Compare construction, finish, Warranty, features, reputation, and long life design-- our Pennsylvania 6600 Series outperforms the competition and provides least life cost and extended operation.
| | |
| --- | --- |
| Model | Capacity x Readability |
| M6600-48x48-2K | 2000 x 0.5 lbs |
INCLUDES GROUND FREIGHT in Cont'l US!!! --- Requires loading dock or fork lift at delivery location
Free freight packages are to business addresses only (Zoned Commercial) with a loading dock or fork-lift. All other charges are the buyers responsibility. (Liftgate, Residential, Construction, Military)
Optional ramps are available. Plus there's even a difference in the Pennsylvania RAMPS: Our loading ramps have UNIQUE knuckle-saving Hand Holds, attachment brackets, and bolt down tabs as standard equipment. Premium powder coat finish up to 48" x 48" models.