CAS DT2X Label Printer
Ultra-light and compact, the CAS DT2x direct thermal printer works seamlessly with current version of the S2000 Jr Price Computing Scale. Fast print speeds The printer includes one standard label format designed for the LST-8000B blank label. Includes RS 232 cable for connection to S-2000 JR price computing scale.
CAS-DT2X
Direct Thermal Label Printer. CAS Corporation Model DT2X. The DT2X Label Printer is now available for use with the S2000 Jr Price Computing Scales. Plug 'N Play. Includes one standard label format (shown below).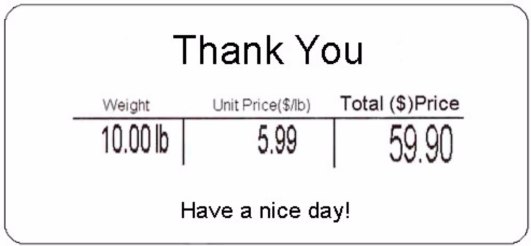 Fast print speed. Use with the new LST-8000B labels, also available for immediate shipment with your DT2X Label Printer. Each CAS DT2X Label Printer comes complete with the LST-8000B standard label format shown above.
Please let us know if you plan on using this printer with a new S2000 JR scale or if you plan on using it with a S-2000 Junior that is a few years old.
No rating yet... Be the first to rate this product!