Rice Lake Counterpart Counting Scale 25 lb.
Rice Lake Counterpart CP-25 replaces Digi DC-190 Counting Scale, 11" x 16" platter, Cap: 25 x 0.002 lbs. Great choice for just about anyone looking to easily count parts from your warehouse shelf.

118798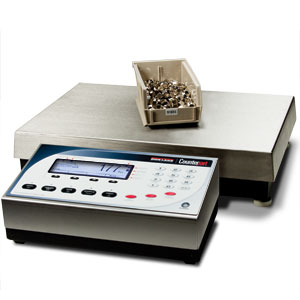 The Rice Lake configurable counting indicator with 25 pound capacity scale base eliminates the equipment learning curve. Users basically follow the keys left to right- zero, tare, and sample. View weight, piece weight, description and quantity all simultaneously. And a ten-piece default sample is all that Counterpart ever demands.While Counterpart was made for user simplicity, additionally, it supplies the high-end characteristics essential for much better inventory control and record keeping.
Counterpart® from Rice Lake Weighing Systems is a configurable indicator -- specially designed from the board up. With amazingly precise internal resolution, it counts any part, from tiny resistors to heavy engine parts -- accurately, quickly and easily. Rice Lake's Counterpart comes out of the box ready to count anything in your operation.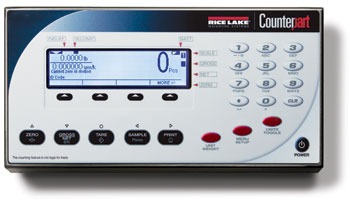 Dual Channel with Digi S-XL Base System & Bracket (second channel available for use with other bases)

PART #

MODEL #

CAPACITY

PLATFORM

118796
118797
118798
118799
118800
No rating yet... Be the first to rate this product!