A few times each year we are usually asked to recommend the best scale for high school wrestlers to use at home. Of course with high school and college wrestling, participants weight amounts are very important and quite often it can be very helpful to have an accurate and reliable scale to weigh at home.
Often the wrestler (and his family) want this to be a very affordable scale since it will only be used at home and not at the actual tournament. 
Below is the top choice to consider for best wrestling scales for home use.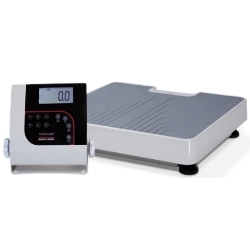 The Rice Lake 150-10-7 floor-level digital physician scale provides precision weight measurements up to 550 pounds. Features include BMI, reweigh and hold-mode allowing operator to lock measurement and transfer unsteady patients before recording. 
The Portable Fitness Scale is a 550 lb. capacity scale that provides superb accuracy when weight is a critical factor. 
This portable device offers a full 550 pound capacity, making it the perfect tool for a broad range of weighing needs. The display can be mounted on a wall or placed on a desk for fast and convenient weighing. The platform is 14″ x 14.5″ x 3 inches high. Weight is displayed in both standard and metric values, accurate to within 0.2 lb.
There you have it, the 150-10-7 can provide the high school wrestler with a reliable and accurate digital scale for keeping track and maintaining a certain weight range. Also be sure to check out our, is Peloton worth it review that was done in mid 2020.