Our wide selection of industrial counting scales on sale let users quickly weigh and count items using a digital scale.  These are much more accurate and faster than counting parts by hand. The scales are rugged, durable and designed for everyday use in warehouses, stockrooms and manufacturing areas. Most styles of counting scales typically offer about five different capacities. Usually there is a 5 lb, 15 lb, 30 lb, 60 lb and 100 lb capacity.
COUNTING SCALE CHOICES & CAPACITIES
All of these capacities are easy to use and certainly more accurate than manual counting of your parts inventory by hand. However, you will want to do some homework and figure out what size parts you are counting on a regular basis. If you're counting really tiny resistors or O rings, then you will want a counting scale with a low capacity for super sensitivity. Conversely, if you're counting large bolts, then you might need a 60 lb or 100 lb capacity scale. If you're counting both sizes of parts then you may want to EITHER invest in a couple of different capacity scales OR perhaps choose a counting scale that has a remote scale platform connected.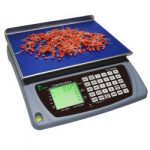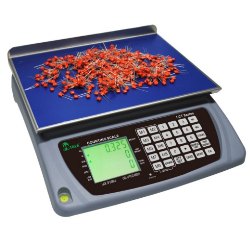 We have several different counting scale manufacturers that we recommend. To name just a few, we have A&D, CAS, UWE, Worldweigh, and Rice Lake just to name a few. In fact, early in your buying process we suggest that you contact our customer service with an idea of what items you're counting and your budget and we can provide you with some ideas of what scales to choose from.
For any industrial counting scale to be accurate, proper set up and use is very important. You can purchase the most expensive counting scale on the market but if you place it on a rickety table beside a ceiling fan, then your parts counts are not going to be accurate.
Place your scale in an environment that is free from vibrations and excessive air currents such as open doors, ceiling fans, windows and heat or air conditioning vents. Be sure to place the scale on a solid surface and use the adjustable feet and the level bubble to level the scale. Plug the scale into the power and then let the scale warm up a few minutes before you place any items on the scale.  You are now ready to weigh or count your items.
HOW TO USE THE COUNTING SCALE
A couple of notes to consider. If you just want weight displayed, you can just place an item on the scale. You don't have to use the scale for just counting. However, where this scale shines is parts counting. Counting items using an industrial counting scale on sale is easy. Instructions will vary slightly from scale to scale but generally the instructions are as follows.
Place a sample quantity of the item you want to count on the scale platform. Type in the sample quantity and press the SAMPLE key. Generally, the larger the original sample size is, the more accurate the parts count will be. The sample quantity will appear in the Quantity display on the front of the scale. The weight of one unit is in the Unit Weight display and the overall weight of all the items on the platform is shown in the Weight display. Now you can add additional items to the scale and the scale will count them for you.
Our selection of industrial counting scales on sale and accessories such as calibration test weights at 1800scales.com, are typically in stock and ready for immediate shipment. We have many top counting scale manufacturers to choose from. A few examples include: A&D, Intelligent, CAS, Rice Lake, Digi, Ohaus, Pennsylvania, Tree, and Worldweigh. Customers have trusted our guidance and product recommendations since 2005.