Being in this business for as long as we have, you can imagine how often we get asked all kinds of weighing related questions. One question we receive a few times every month is, "what is the best MG scale?  In other words, what are the best scales that weigh down to the milligram?
First off, we would refer to them as balances, but we understand what you mean. Right off the bat, the easy answers are the top players. Of course, Ohaus, A&D, Mettler Toledo, and Sartorius are likely the best MG scales on the market today. So, if you can afford it, you might give the Ohaus Pioneer balance a shot for example. It's one of the best value lab balances that we currently offer. 
But many folks who ask this question often are on a very tight budget. In that case, we need to recommend some of the less expensive lab balances that we do offer with milligram readability.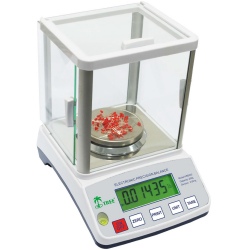 The HRB-303 mg scale is a nice choice for customers looking for precision accuracy without a super high price tag. The Tree lineup of digital scales is known throughout the United States as a scale manufacturer that builds high quality and value into each scale they offer. The HRB is also available in lesser capacities including 200 grams and 100 grams.
When you're talking about the best MG scale, another popular choice is the Intell-Lab PM-300 analytical balances. These have been developed and designed for simple weighing applications. You get weighing results reliably and fast, at an optimum price to performance ratio. The capacity x readability for this weighing balance is 300 x 0.001 g. There is also a 100 gram capacity version of this available as well.
Finally, when you mention the best MG scale, one other option we need to mention is the Ohaus Scout SPX223 which features superior performance and simple operation. The Scout combines the accuracy and reliability of previous versions of Scout balances but with new features like three decimal place readability. This model includes a draftshield and has a capacity of 220 x 0.001g.
We hope that you find the right MG scale for your weighing needs. If you need a little guidance or assistance, feel free to contact our customer service department with your requirements and budget. We have sold many of these products over the years and have seen the quality and performance of these milligram scales up close. Our list above is not exhaustive, but it is based on past sales and customer feedback, along with our thoughts as well.