In today's article I want to write about the best gold weighing scales available for the money. Please note this is not an article about the lowest price jewelers scales we can find. I am focusing on quality, accuracy, and dependable gold scales.
When I think of that in the weighing of precious metals like gold or silver, I usually think of A&D Weighing and their selection of NTEP approved compact balances. No these are not pocket balances but they are fairly small and won't take up too much counter space.
You see, the majority of digital scales are not NTEP approved, legal for trade. The reason is simple. Those scales could never pass the challenging test that a scale must go through to actually be NTEP approved. Usually the scales are built with low quality load cells and components. However, when you buy gold scales such as the A&D EK-i for weighing goods sold by weight you know the scale was tested by the manufacturer and NTEP as well.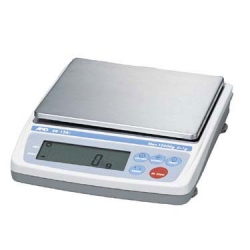 EK-i gold scales provide a wide selection of capacities and resolutions. Versatile features include full digital calibration and a large, back-lit LCD display. Its small footprint, optional carrying case and rechargeable NiCd battery make it convenient and portable. For years the EK/EW models have been popular compact balances for a wide variety of applications. Now the new Everest Compact Balances have been designed to carry on their tradition with enhanced capacities and resolutions, and EW-i models come with attractive triple ranges of weighing. New electronics, wider selection of capacities & resolutions, and remote-zeroing have been included in a low-profile rugged housing. All feature RS-232C standard and are designed to meet Weights and Measures regulations for various countries. (e.g. NTEP, CE).
Before we jump into the scale information, let's mention a few of the basics about buying and selling gold. Also I want to mention; we understand scales, however we are not precious metal buying or selling experts. We simply provide the friendly advice based on experiences.
Buyers and sellers certainly need to be safe when it comes to selling gold jewelry.
If you sell gold or silver for scrap, you could lose as much as 3/4 of its retail value according to some of the experts. Have the jewelry appraised by a reputable source. Even if you are sure about its value. Its value as an art object or antique may greatly exceed what you can get for it as scrap metal. Weigh the gold, minus any gemstones. Best to use a jewelers scale, or sometimes refereed to as a gold scale. If you can, it's a good idea to weigh your precious metals on a NTEP approved legal for trade scale. In most cases, the price of gold is based on troy ounce units. Gold less pure than 24 karats is discounted proportionately. Estimate the scrap value of the gold, adjusting for its purity, and then decide whether you still want to sell it. The current price for gold is listed on gold.org.
Take the jewelry to a reputable buyer of scrap gold, and ask for a quote based on the spot price of gold. Remember, the prices that a buyer may offer may also include their fees for assessing the gold, plus any profits the buyer hopes to make. If you decide to sell the jewelry to an online dealer, make sure the dealer is willing to send you a registered packing envelope that requires a signature when you send it back with your gold. Be sure to get an estimate and a guaranteed price range before sending the jewelry. Be sure to look around when selling your gold jewelry. In other words, shop around. You may find large differences in the offers you receive to buy your gold which could ultimately put more money in your pocket.
Buying gold jewelry sounds pretty simple when you first think of it, right? One of you is going to pay money and one of you is going to get gold jewelry back.
Make sure that the individual that you deal with is reputable and is who they say they are. Make sure that whoever is selling can give documentation of what is being bought. For instance, you want to know what the weight of your gold jewelry is (which is the subject of our entry today). If you're buying the gold as an investment, you'll probably want a higher karat weight. You're going to be getting 14K, 18K, 20K, or 24K gold jewelry. 24 karat is the purest gold. If you're looking to buy gold for investment, choose the 24 karat variety.
When I think of a really good scale for weighing gold jewelry I usually think of the A&D EKi series legal for trade gold scales.
These digital scales are NTEP Legal for Trade, Class II or III digital scales. They can be used for commercial weighing applications like weighing precious metals such as silver or gold where items are bought and sold by weight. When you're purchasing scales like these or if you're just checking out a precious metal buyer's scale, you will want to look at their scale make sure it is a legal for trade scale. The scale will be labeled with a certificate of conformance number, also known as a CoC#. It will also mention class II or III which is referring to Class 2 or Class 3.
One of the areas where customers will sometimes get confused is when they see the terms "e" or "d" when looking at balance readability.
Often you might see: "e"= 1g and "d"= 0.1g. "d" is the division the scale is capable of displaying. The "e" is the NTEP legal for trade division the scale was approved for when the NTEP certificate was issued and the scale received a certificate of conformance. This is sometimes listed as certified readability. A quick example might be as follows. A scale CAN display readability to three decimal places such as 0.001 grams. However, the LEGAL FOR TRADE readability is only two decimal places, such as 0.01 grams.
So there you have it, we recommend the A&D EK-i series balances for weighing gold, silver, or any other precious metal.
The A&D gold scales are accurate and reliable. Best of all the A&D lineup is fairly affordable when compared to other legal for trade balances in the market today.  A&D's core technology of analog and digital conversion enables them to understand and utilize information within the environment. With this competency, A&D provides tools using precision measurement and controlling technology and assist customers to create added value and contribute to the development of industry and healthy living. Since 1977, A&D has grown into a multinational corporation with operations in the United States, Germany, Japan, Australia, Korea and Great Britain with worldwide sales in excess of $400 million. They offer a full line of Electronic Balances, Digital Scales, Weighing Indicators and Controllers, Load Cells, and Non Destructive Measurement Equipment.