B-Tek 4-Square NTEP Floor Scale System 5000 lb.
$

1,995.00
Reg. Price $2,200.00
You Save $205.00
InStock
If you're in the market for a floor scale that's built in America then you've found a good one with the 4-Square from B-Tek. Many of our customers specifically ask for this scale on every order. Excellent 4x4 5K package combining the rugged, low profile floor scale with the easy to use T103P Digital Weight Indicator. NTEP Approved. Price includes freight in cont'l US to business addresses only (Zoned Commercial) with a loading dock or forklift.

BT-FC-4848-5-4S-T103P
The B-Tek 4 SQUARE low-profile platform floor scale offers quality construction and components at an affordable price. The 4 Square pallet scale is built to meet the requirements of light industrial and commercial business applications.
Things change pretty quick these days but to the best of our knowledge this 4SQUARE floor scale is actually constructed in the United States at the B-Tek factory in Ohio which is pretty amazing since most all floor scales these days are made in China.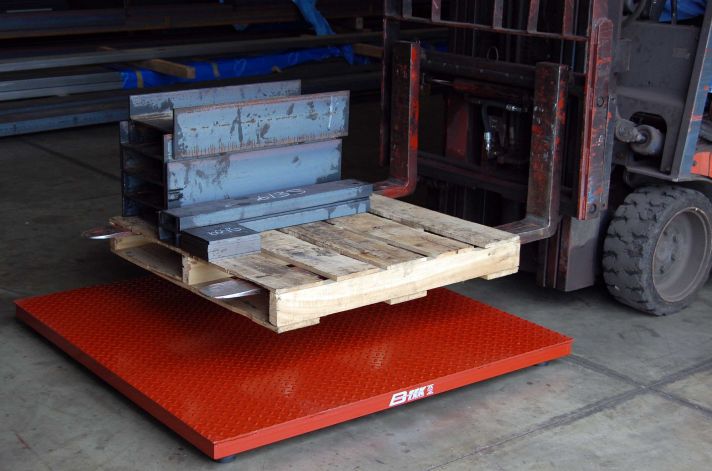 So if buying American Made products is important to you, this B-Tek floor scale should work out great for you. B-Tek has done an outstanding job of keeping the costs down on this U.S. made floor scale. In fairness, we should mention that there are four load cells in the platform and they are imported and we think the digital indicator is mostly likely imported as well but it's great to see that an American Made floor scale still exists. Purchase one of these platform scales and help your fellow American.
4 SQUARE SPECIFICATIONS
* Available in the standard capacity of 5,000 lbs.
* Dimensions of 48" x 48" (4' x 4')
* Threaded lifting eye bolt hole in center of platform
* Nominal height of 4-3/8"
* Standard Top Access Junction Box w/ FRP Junction Box
* Proven track record of outstanding performance
The quality construction starts with a heavy structural channel sub-frame topped with laser cut diamond tread plate decking. This combination forms a tough, rigid weighbridge. Nickel-plated tool steel load cells are used in conjunction with a top access watertight junction box. Level Flex rubber feet are fully adjustable and provide a stable base with flexibility to compensate for imperfect mounting surfaces. For lifting convenience, a threaded eyebolt hole is located in the center of the weighbridge. Comes factory calibrated with the T103P digital indicator.
The B-Tek T103P indicator is ideal for general weighing and simple counting applications. Ready for use in production, packaging, warehouse, inventory and shipping & receiving areas. It's perfect for floor scale applications. The T103P features an ABS housing along with a large backlit LCD display, raised tactile buttons, built-in rechargeable battery and simple operation.
The T103P is the right solution for your weighing applications that require a rugged and versatile indicator with an affordable price point. This floor scale system is an exciting alternative to the cheap imported chinese floor scales that you've probably seen.
| | | | |
| --- | --- | --- | --- |
| Item Number | | | |
| BT-FC-4848-5-4S-T103P | | | |
PRICE INCLUDES STANDARD LTL GROUND SHIPPING ON A PALLET TO BUSINESS LOCATION WITH FORKLIFT OR LOADING DOCK
Options Available
48" x 48" Ramps
Bumper guards
Floor anchor plates
Indicator Stand