CAS LP-1000N Label Printing Computing Scale
The CAS LP-1000N Thermal Label Printing Scale was designed specifically for the food service environment where you need to pre-pack and price items. The CAS LP1000 is perfect for your deli or grocery. You can pre-program your items, prices, and ingredients into the scale, thus reducing errors and giving the consumer the information they require. CAPACITY: 30 x .01 lbs NTEP Approved.

LP-1000N
Take CAS's most popular label printing scales, the CAS LP-1000 series, make some improvements, and you have the new CAS LP-1000N label printing scales widely considered the best scale on the market today in its class. A feature rich, easy to use label printing scale. With its ability to use the most popular label formats, the CAS LP-1000N will be perfect for delis, convenience stores, meat counter, bakery, grocery stores and more. Please note any programming required will need to be done by you and/or any tech support will have to be provided by the manufacturer. Be sure to purchase scale labels to go with your LP1000 label printing scale. We also have a pole display LP1000 version of this scale available.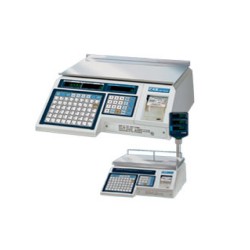 NTEP Legal for Trade

Includes RS232 interface

Free software included

4000 PLU (price look ups)

54 preset keys

30 standard label formats plus 6 custom labels

Continuous strip label

Print ingredients with labels 8000 & 8010

Print label with backing paper

Net weight statement

Pre-pack mode for automatic weighing / labeling

High speed printer

Print detailed reports on label of full page

Print inhibition (every field)

Password function

Diagnostic feature

Spanish printing

Flash ROM
Capacity

30 x 0.01 lbs

Display Digits

5 / 6 / 7 (Weight / Unit Price / Total Price)

Display Type

VFD (vacuum fluorescent display)

Measurement Type

Load Cell

Printing Type

Thermal print

Preset Data

4000 PLU, 1000 ingredient messages (50 characters x 8 lines)

Data Transfer

PC to scale, Scale to PC, Scale to scale

Label Size

58 x 30 mm ~ 58 x 100 mm

Power Source

AC 110/120/220/240V, 50/60 Hz

Interface

RS-232C

Power Consumption

Max 100W

Operating Temp

14 to 104 degrees F

Platter Size

15.75 x 9.65 inches

Dimensions

16.1 x 16.9 x 7.8 (LP1000NP: 16.1 x 19.3 x 23.6)

Approvals

NTEP

PLU Data

Commodity name, message, item no, tare weight, unit price, group code

Printing Data

Commodity name, message, packed-on date, sell-by date, unit price, weight, total price, store name & address, serial no, time, PLU no, group code

Bar Code Formats

EAN13 and I2of5