CAS LP1000NP Printing Computing Scale Pole
The CAS LP-1000NP Thermal Label Printing Scale with Pole was designed specifically for the food service environment where you need to pre-pack and price items. The CAS LP1000NP is perfect for your deli or grocery. You can pre-program your items, prices, and ingredients into the scale, thus reducing errors and giving the consumer the information they require. CAPACITY: 30 x .01 lbs NTEP Approved.

LP-1000NP
If you were to take CAS most popular label printing scale the CAS LP-1000 series, make some small improvements, you would have the CAS LP-1000NP label printing price computing scales with pole display. The LP1000NP is widely considered the best scale on the market today in its class. A feature rich, easy to use label printing scale. With its ability to use the most popular label formats, the CAS LP-1000NP scale with pole display will be perfect for delis, convenience stores, meat counter, bakery, grocery stores and more.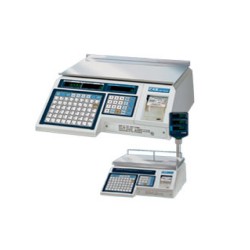 NTEP Legal for Trade

Includes RS232 interface

Free software & cable included

4000 PLU (price look ups)

54 preset keys

30 standard label formats plus 6 custom labels

Continuous strip label

Print ingredients with labels 8000 & 8010

Print label with backing paper

Net weight statement

Pre-pack mode for automatic weighing / labeling

High speed printer

Print detailed reports on label of full page

Print inhibition (every field)

Password function

Diagnostic feature

Spanish printing

Flash ROM
Capacity

30 x 0.01 lbs

Display Digits

5 / 6 / 7 (Weight / Unit Price / Total Price)

Display Type

VFD (vacuum fluorescent display)

Measurement Type

Load Cell

Printing Type

Thermal print

Preset Data

4000 PLU, 1000 ingredient messages (50 characters x 8 lines)

Data Transfer

PC to scale, Scale to PC, Scale to scale

Label Size

58 x 30 mm ~ 58 x 100 mm

Power Source

AC 110/120/220/240V, 50/60 Hz

Interface

RS-232C

Power Consumption

Max 100W

Operating Temp

14 to 104 degrees F

Platter Size

15.75 x 9.65 inches

Dimensions

16.1 x 19.3 x 23.6

Approvals

NTEP

PLU Data

Commodity name, message, item no, tare weight, unit price, group code

Printing Data

Commodity name, message, packed-on date, sell-by date, unit price, weight, total price, store name & address, serial no, time, PLU no, group code

Bar Code Formats

EAN13 and I2of5
Please note LP1000N scale is also available
* Specifications subject to change for improvement without prior notice.
Reduce setup time with the now standard CAS LP1000NP software & PC to scale cable. Allows PLUs, messages and presets to be programmed from the PC.
Don't forget to order your LP-1000NP labels!

(click the pics below fr order info)
Please note any programming required will need to be done by you and/or any tech suppport will have to be provided by the manufacturer.
No rating yet... Be the first to rate this product!